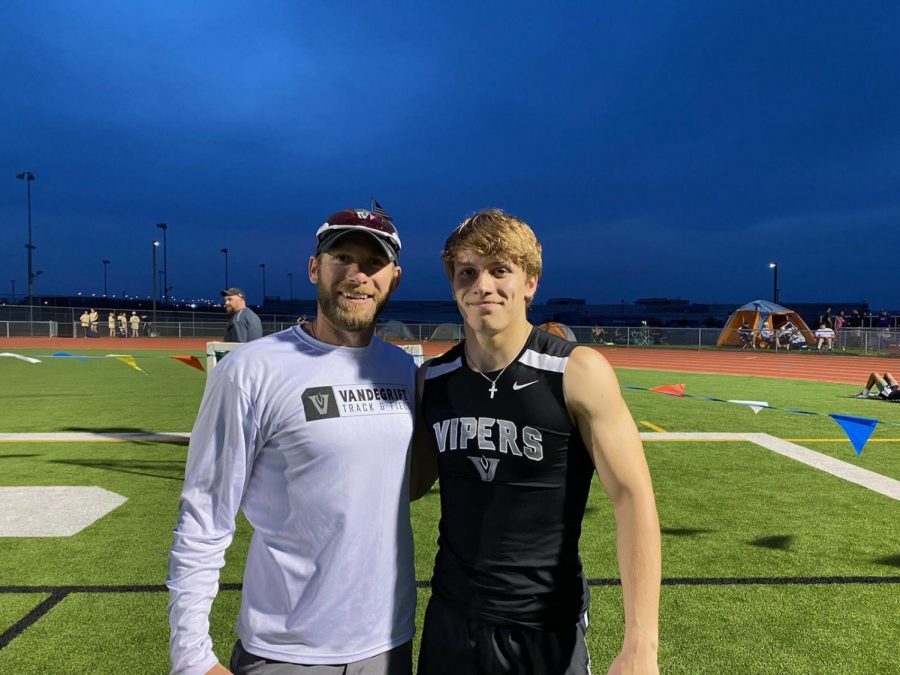 Run like the Wind
Senior talks about the upcoming track season
After doing track for six years, senior Kaleb Lewis has accomplished a lot during his time on the team. From getting ranked 19th in the 200 last year in the country to holding three records, Lewis isn't new to showing people what he can do. 
"I do track because I love to run fast and it is a great sport to stay in shape," Lewis said. "I did it at first for the second sport and I thought I was a good competitor. When I continued on, I found out I had a very deep love for the sport, which motivated me to continue doing it."
Lewis competed in the 100 and 200 events as well as the relays last season and is planning on competing in those events this year as well. 
"I'm ready to give it my all," Lewis said. "I've accomplished a lot, but I'm not satisfied yet."
As a senior, Lewis is looking forward to having a track season this year. With the season being canceled last year due to COVID-19, Lewis is excited to be able to show people what he's got before he graduates. 
"It's a real blessing," Lewis said. "Even though I think track will have fewer fans and a lot less interaction with the team, I'm very thankful to have the chance this year to prove what I can do."
Lewis believes that, despite COVID-19, this year's season won't be affected. 
"I think people will run harder and train harder," Lewis said. "The runners will have less opportunities to compete, so you gotta put it all out there!"
Lewis mentioned that his girlfriend, senior Taylor Reyer, is his biggest supporter. 
"She is always by the track, cheering for me and pushing me to go faster," Lewis said "I even ran my record time because of her."
What Lewis enjoys most about track is getting to socialize with people at meets and getting to be on the track with his friends. 
"Track is a very single-person sport, but I love the team aspects," Lewis said. "Practice is fun when you can mess around, and I enjoy competing."
Track has given lots of opportunities to Lewis. He is planning on playing football and competing in track in college and has already contacted some college coaches about track. 
"I've talked to some great coaches for track and have had some amazing opportunities," Lewis said. "Track has made me stronger and more confident in myself. I suggest track to anyone on the edge of not wanting to do it because it will push you and surprise you."