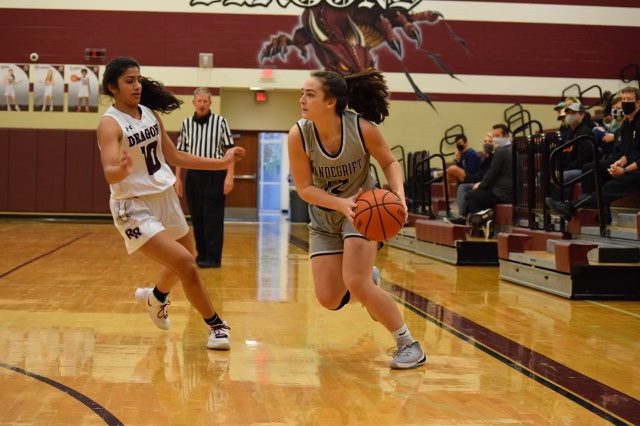 Game changer
Senior reflects on impact of COVID-19 on Girls varsity Basketball
The ball flies across the court and into the hands of another teammate. A basket is made, a game is won, and a small number of masked spectators and players celebrate a positive in a time when "positive" results can be quite dangerous.
Since freshman year, senior Laura McClintok has been involved in the basketball program at Vandegrift. But this year, much has been different from past years. For one, McClintock made it onto the varsity team. And two, COVID-19 altered the game and many traditions that previous varsity basketball teams have enjoyed.
"Before this year it was really fun," McClintok said. "Our team really focused on bonding and making sure that we can work together as a unit, which was really hard this year because we had to miss out on a lot of our team bonding opportunities."
Beginning when she was three, basketball has since created "a healthy and loving environment" for growing her passion and friendships, according to McClintok.
"I honestly can't imagine going through high school without doing some type of sport," McClintok said. "It has connected me with like-minded people, and having that outlet improves other parts of my life too."
Now, with COVID-19 regulations in place, such as wearing masks at all times unless they're playing in a game and constant rescheduling or cancelling of games due to other district's rules, playing the sport is much more difficult, according to McClintok.
"We actually can't take our masks off at all unless we're actively playing in the game, so even at practice we have to wear it," McClintok said. "So that has definitely been a change, especially with the amount of running and sprinting we do."
Traditions like Senior Night and the end of the year banquet have also been impacted. While the seniors were able to have a senior night early in the season, McClintok still worries about the chances of attending a banquet.
"It sucks as a senior because we don't get any of the things we've been looking forward to since freshman year," McClintok said. "We might not be able to have a banquet this year which highlights and says goodbye to the seniors. And we had to have our senior night at the second game of the season because they wanted to make sure that we have it. It's just not fun in the beginning and no one knows where they're going to college yet."
But the biggest change in McClintok's opinion was the decreased amount of bonding the team has compared to previous years.
"We especially lost a lot of seniors last year that graduated so a lot of our players on varsity don't really know each other," McClintok said. "So that's been a really big difference from past years compared to this year."
Even bonding with a new coach has proven to be difficult.
"We just got a new head coach, so covid has made it difficult to learn about our new coach and bond with her," McClintok said. "She's a great coach and a great leader, but it's just been a little difficult just because we all haven't gotten to do team dinners and the homecoming float which is a huge thing that we've won the past couple years."
But despite all the negative alterations, COVID-19 has made one positive impact according to McClintok: the girls are now more conscious of each other's well being.
"Covid has made us more conscious of one another's health and looking after each other more," McClintok said. "We all have to worry about each other. Even though we don't know each other well, we're still able to bond over the fact that we have to be careful with one another."