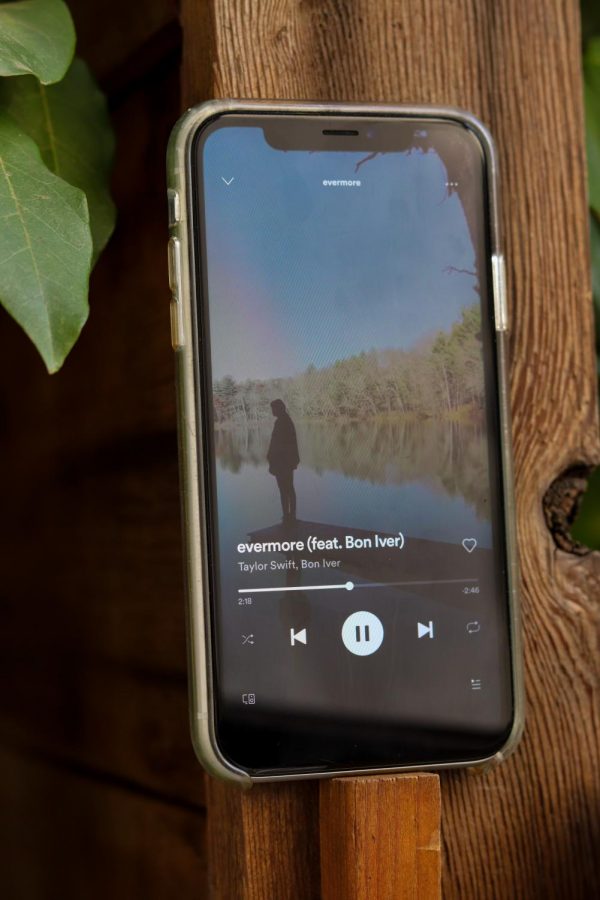 I'll be a fan for 'evermore'
Happy Birthday to us!
Taylor Swift announced last Thursday morning that she was dropping her third album in two years, "evermore" at midnight as a present to all her fans to celebrate her 31st birthday, as a way to thank them. This is Swift's second surprise album, leaving fans thrilled at the notion that they've just gained a whole new repertoire (I'm fans).
Swift has labeled her ninth  studio album "folklore's sister record" and claimed it's a product of not being able to stop writing music during the pandemic. This is new territory for the master of switching genres as Swift usually moves on to try something new after making an album, but it seems the mystical, magical music of "folklore" is here to stay. Not to mention, it seems Swift may have returned to her roots with this album, delivering us her first country songs in years.
willow:
This first track echoes it's sister album "folklore" perfectly, blending in with it's soft vocals, emotionally charged lyrics, and Swift's fantastical touch. In fact, it seems like we're still listening to the same album. It's also proved to be a fan favorite with its plucky guitar and iconic line "I'll come back stronger than a 90s trend" which Swift now features in her Instagram biography. However, this song seems uneventful and a strange choice for the first track of an album. In short terms, it's forgetful.
champagne problems: 
Clever as ever, Swift uses the phrase champagne problems (it refers to first-world problems) in her chorus to tell a love story. The use of the phrase is by far my favorite part of this song because of its originality and general stroke of genius, not to mention the beautiful piano ballad this track features. Swift also showcases her storytelling skills in this story about two high school sweethearts who break each other's hearts over a rejected proposal and features an addictive chorus that sticks in your head days later.
gold rush:
Right off the bat, this track establishes itself as a sparkly, fairy-like story featuring twinkling piano and Swift's breathy vocals. Miraculously, in this song she's able to combine the pop of "Lover" with the fantastical stories of "folklore," emphasizing a whole new era of her musical journey. Here, Swift briefly returns to the colorful pop of her previous few albums, but seems less rushed when it comes to her lyrics and storytelling. She's not afraid to take the time to build her narrative on "gold rush."
'tis the damn season:
A Christmas song on a non-holiday album? Only Taylor Swift could do it. While this song sports a catchy tune you'll find yourself humming along too, it's lyrics suggest a heavier meaning; they touch on Swift's feelings of inadequacy in the music business and her childhood. It's an emotional song, but as always with Swift's music we'll never know if it's just a story or actually about her life.
tolerate it:
With its heavy, repetitive, piano-led beat and intense lyrics this song has quickly and easily become a favorite of mine. Not to mention, the bass drop into my favorite line is subtle, but impactful. As emphasized by said line "I wait by the door like I'm just a kid," this track is about a younger girl falling for an older guy who she'll never be enough for. This track beautifully encompasses trying too hard to please others, a topic Swift has always publicly related to. 
no body, no crime: (feat Haim)
This track begins with sirens, foreshadowing a Clue-like story of a friend and a cheating man. It's catchy, echoing themes in Swift's album "Reputation" while also maintaining a heavy country influence from her first days in the music business. Like always, the storytelling skills in this song are impeccable and the lyrics paint a vivid picture of the scene of the crime.
happiness:
This song demonstrates Swift's new musical mission, to let go of her need for resolution and clarity and instead, to let her music speak for her. With its dreamlike organ intro, Swift hints at her iconic self-reinvention and its role in this album. Shockingly, Swift also contradicts herself in this song with the lines "No, I didn't mean that/Sorry, I can't see facts through all of my fury," a rarity in songwriting that only further illustrates the careless feel of "evermore," almost like stepping off a ledge and letting the clouds catch you.
dorothea:
Floating along through this track, Swift simplifies her writing skills for a brief moment and instead focuses on the lilting chorus where she only repeats "Dorthea." It also echoes some of her simple, childhood music with lines like "stars in your eyes" and its repetitive nature and catchy chorus. However, it also demonstrates Swift's lyrical and emotional growth as a songwriter.
coney island: (feat. The National)
This track features The National's Aaron Dessner, who aided Swift in producing this album alongside Jack Antanoff. It features feelings of needing to avenge the fallen, to pay homage to them best, after losing a loved one. Swift sings "sorry for not making you my centerfold," yet again demonstrating the escapist fantasy she builds on this album and its sister as she details remembering what she's lost from her seat on a Coney Island bench.
ivy:
This track also recalls brief pieces of Swift's country days with banjo, trumpet and gentle harmonies that paint a fairytale forest for Swift to get lost in, even though someone else corrupts it. Despite the upbeat sound the music gives off, this song is painfully sad. Like always, Swift manages to make a sad story beautiful.
cowboy like me:
Reflecting much of her older work, "cowboy like me" gives off an old-soul country/folk vibe. Swift's lilting voice is met with the soft background tones of a male singer, and the effect of their blended voices and the electric guitar solo draw parallels to much of Austin's old-school, local folk music. This track is actually one of my favorites because, despite "evermore's" similarity to "folklore," this song hints at a whole new foray into music for Swift.
long story short:
With its upbeat, fast drum beat intro this song already screams pop music, one of only two on the album that reflect some of Swift's previous work with pop. In fact this song gives me major deja vu for "1989," especially the second verse. It gives off a wonderland vibe and I instantly found myself tapping my feet, ready to dance as soon as I heard it the first time.
marjorie:
Swift actually found old records of her grandmother Marjorie singing opera and worked them into this track so her grandmother could sing with her. The heavy, emotional content of this track is only emphasized by Swift's lyrics "And if I didn't know better I'd think you were singing to me now," followed by Marjorie's own opera in response. It's a beautiful, fragmented mess of regrets and memories and advice.
closure:
I'm instantly drawn in by this song because of it's unusual intro, featuring almost this call and answer game between piano and drums. If there's anything this album is about, its closure, as Swift pulls from all of the past versions of herself to build fairytales. Not to mention, this particular song has garnered quite a bit of attention for its possible connection to an old flame, Harry Styles, but perhaps it's just another example of Swift's tantalizing dreamscapes.
evermore: (feat. Bon Iver)
This track is a beautiful and surprising mosaic of oddities, from Swift's purposely childlike voice to what appears to be a shift into an entirely new song halfway through the track, introducing Bon Iver. Simply put, "evermore" is stunning, and Bon Iver's appearance builds the music into an overflowing waterfall of sound and the voices of Swift and Bon Iver's lead singer/songwriter Justin Vernon intertwine and tell the story of this album and Swift's own life.
Once again, Swift has demonstrated her unparalleled storytelling skills and her mastery of genres. It's rare to watch listeners allow an artist to grow and reinvent themselves so often, but when it comes to Taylor Swift, the world has given her a free-pass as they wait for each incredible installment in her story. This album paints a 50s era fantasy world of murders, twisted love stories, and slowly tantalizing music for listeners. It's safe to say "evermore" was well worth the faith.