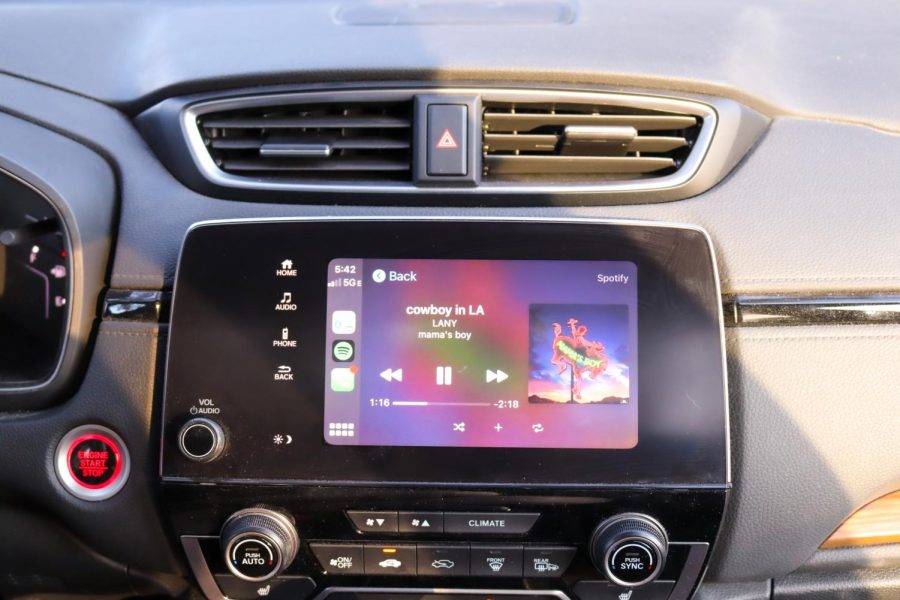 LANY become the cowboys of L.A.
LANY returns with album 'Mama's Boy'
LANY, the increasingly popular indie-pop/ alternative group, released their long-awaited album 'Mama's Boy' Oct. 2. The band's third album has shifted from their earlier lonely boy, broken hearted persona, but remains deeply personal as it explores faith, family and reality. While the name LANY, which stands for Los Angeles New York, suggests a coastal boy-band, in actuality the group originates from more central states. In a nod to the band's origination, the album is about being home- coming from a very "regular" American perspective. It's old jeans, rusted signs, and an honest conversation. 'Mama's Boy' was born out of the band's lead singer Paul Jason Klein's journals- from song titles to themes. 
As a LANY fanatic I took it upon myself to run through each song on this album and explore the themes, music and lyrics that have made it surprisingly successful and lauded amongst other artists across social media.
you!:
My absolute favorite part of this song is in the chorus when "without you" is echoed, it has such a catchy feel without being cliche and I sing it every time. However, like any true pop song, the chorus seems overplayed from the beginning. I think this song is meant to be fun, but it almost marrs the album because of the serious themes in most of the other songs that tie back to home.
cowboy in LA:
This pre-release track grabbed everyone's attention with its catchy lyrics and juxtaposition of the band's cowboy upbringing and its coastal L.A. pop sensation. In fact, this is one of my favorite tracks because of how slowly the song begins and then slides into contradicting phrases about cowboys and palm trees that, despite being so estranged, prove magical when sung by Klein's silky slow voice. The effect leaves you wanting to meet "a cowboy in LA."
heart won't let me:
This song echoes the feelings repeated across LANY's older albums, bridging the gap between their softer tunes and their new shift into the country side of pop. While it meets the catchy boy band feel LANY has historically shot for, "heart wont let me" falls short on this album as it seems to not "let" the band reach its full potential.
if this is the last time:
With a childlike awe, Klein sings about his parents and how he plans to spend his time with them because any moment could be "the last time." This song contrasts with LANY's previous work as it's open and personal, but rather than serving as a sore thumb, it's a gem on this album, with the kind of familial sincerity that's rarely found in today's music. After coming into the limelight as a band famous for it's love and breakup songs, LANY has proved its metal for another genre of love songs, ones that extend far beyond romantic interests.
i still talk to jesus:
I'm not a religious person, but this song evokes something inside you when you hear it. It's playful, but resolved. It lets listeners know you can still have faith despite your habits. The clever use of a church choir in the music works with the message to bring you a pop version of classical church music. Elements like the organ in the background add to this religious feeling, but don't detract from the lighthearted approach to faith. This is an entirely new direction for LANY, but it's done effortlessly, in a way that shocked me the first time I heard it and quickly became a selling point for the album.
paper:
This song feels so raw, born out of experience. And, true to his statement about the album's themes, Paul Jason Klein makes it about understanding when the fire is gone, instead of about heartbreak. "Paper" is for resigned lovers, for the not-quite-meant-to-be's staying together to save face. While the music has the undertones of a sad love song, it remains upbeat and the line about everyone thinking they're the "poster kids for love" is a favorite of mine, because it alludes to the feeling when you know something's over, but you stay anyway.
good guys:
"Good guys" is exactly what it sounds like: an anthem to all the guys out there who do the right thing, but are written off for the more dangerous and intriguing "bad boys." Another popular hit on the album, this song was a pre-release that buys into the cliche "good vs bad" buy type of high school romances, but gives it the twist of a "southern gentleman." Eventually though, it becomes repetitive and overplayed, losing the charm of the initial idea.
sharing you:
Sadly, this song fades into the background, especially if you play the album all the way through in one sitting. It serves better as background music for studying or a late night drive, but has a few stand-out moments backed by a hint of slide guitar and an increasingly fast drum beat. I wouldn't call this song noteable or needed, its place seems to be filling up space on the album.
bad news:
Contrasting with "good guys," "bad news" solidifies the "bad boy" persona most boy bands like LANY reach for in their music. Right off the bat, it launches into an irresistible beat with lyrics that make you want to know more about Klein, who slips in and out of a southern accent on this track. If you're planning on dancing the night away, add this track to your playlist or read up on the lyrics and go for a midnight drive.
when you're drunk:
Within the first few beats, this song resembles an upbeat Coldplay hit, and when Klein makes a nod to them in the next few lines, it only solidifies the underlying presence of the beloved band's slow alternative feel.The lyrics examine unrequited love, but in a way that you wouldn't notice because of the easy, light hearted feel of the music. I could sing this song all day, it's the type that serves as a fun melody, but has lyrics that suggest otherwise. 
anything 4 u:
This track has the catchy feel of a slower pop song and tugs at the heart of a teenager experiencing young love. Piano heavy, "anything 4 u" paints a picture of a teenage boy. The title of the song only adds to the high school feel with its abbreviations, which is reflected in the music. "Anything 4 u" feels magical, and hits at the heart of the innocence and total consumption of teenage love, heavily influenced by much of LANY's past synth-pop style. Just like this song intends, I've fallen in love with it.
sad:
"Sad" echoes the feelings of lost love, staying true to LANY's roots in breakup songs, but introducing a newer side of the band that focuses on the anger that accompanies some breakups, instead of the sadness that many of its counterparts adhere to. Despite being titled "sad" this track isn't about feeling sad, it's about making someone you used to love feel sad because they don't have you anymore. After such an emotional rollercoaster on previous albums detailing lost loves, Klein has managed to flip the switch and succeeded in making a breakup song that isn't as mushy.
(what i wish just one person would say to me):
The first 15 seconds of this song are impossible to ignore. They serve as a hook, line and sink and draw any listener in to hear what Klein has to say once the lyrics start up. The chorus is intoxicating, the lyrics heartfelt. While this song hints at discourse, its beautifully slow style and chorus speak volumes to create an upbeat effect.The line "look at you go, the world is yours I'll hold it down at home" is one of my favorites of the entire album, illustrating that Klein and the band have grown up from the oversimplified love songs of their past.
nobody else:
In classical LANY form, the final track of 'Mama's Boy' is a slow, melodic piece. This song seems to be a projection of all the band has learned as they've toured about music, and how to live life to the fullest. It's a gentle way to close the album. It's reassuring, calm, and has more of an acoustic feel than the rest of the album's music, staying true to the theme of homecoming. In fact, I'd say it closes 'Mama's Boy' perfectly.
'Mama's Boy' is what we've all been waiting for from LANY, we just didn't know it yet. For a band that's built itself on the indie synth-pop vibes of California coastal music, LANY has made a breakthrough into the world of music with this album, introducing a watered down version of their younger influences with new influence from home, creating a country-pop album. 
While the switch to country-pop seems strange for LANY, it seems to have worked to break the band away from their emotional synth-pop baby band days and thrust them into an ever-growing spotlight. LANY is on the map again, and on the move up with 'Mama's Boy.'