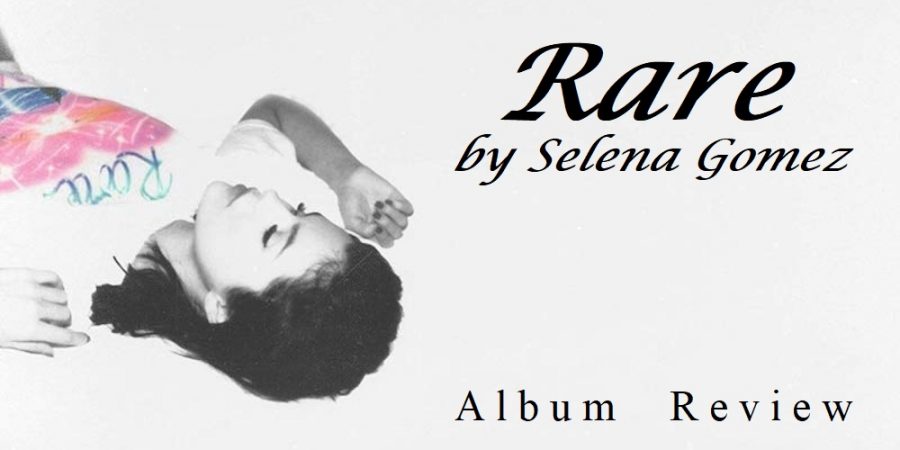 Graphic made by Claire Lawrence. Album art contributed by Interscope Records.
Not as 'Rare' as you'd think
After an extended absence from the music world, well known pop artist Selena Gomez dropped her latest album, "Rare" Jan. 10. Her fourth album encompasses her break from music, coming to terms with herself and the importance of loving yourself. The album echoes most of her earlier music in terms of sound, but her lyrics and the emotions that drove her to write have evolved and she now presents, like any artist who's grown from being a teenager to adulthood, a more personal project. However, the project is overshadowed by her over-repetitive music that individually is noticeable, but when listening to the album as a whole makes the process more grueling than enjoyable. Although Gomez managed to bare her soul on this album and her content has matured, her music hasn't. 
While I may not be a die-hard Selena Gomez fan, any Gen Z kid has grown up listening to her music and so naturally I was excited to see where she would go with this newest album and to listen to every song in depth.
Track 1: Rare
This first track is an upbeat song that encompasses the meaning behind Gomez's whole album and dives into her budding relationship with self-love. The track follows along with girl power icons Arianna Grande and Taylor Swift with it's upbeat, dance feel to it and self-proclaimed "rareness." 
Track 2: Dance Again
"Dance Again" is just how it sounds. It's a song that's meant to be danced to, with the heavy beat of a club dance song that strongly echoes Gomez's earlier music, especially songs in her previous album "Stars Dance." The track reflects the artist's newfound self-love in a different way than the first song due to its repetitiveness, and its seemingly freeing ode to dance, which Gomez has repeatedly said in interviews she's missed while being offstage. 
Track 3: Look At Her Now
A personal favorite of mine, this track addresses a common theme for the album: discovering the importance of loving yourself and transcending after having your heart broken. While the lyrics start slow, laying out a storyline for the listener, the chorus takes on the sound of the previous track "Dance Again," and I found myself tapping my feet in my chair as I listened to it. When Gomez sings in her second verse, "what a thing to be human," it hit me how invested she is in this album and its story. 
Track 4: Loose You To Love Me
To be honest, I cried the first time I heard this song, which was released before the album back in October and is what drove me to anticipate the whole album. "Loose You To Love Me" is a demonstration of Gomez's talent at its height and is my favorite song on the album. It's profound and personal, written when the artist was in a rough place she tells the media. The lyrics are incredibly clever. They perfectly describe what it means to let someone go, even when you love them, because, like she sings in every song, loving yourself is more important. 
Track 5: Ring
In sharp contrast with the track before it, this song has a very catchy, playful tune and represents a different side of Gomez. The song echoes the kind of music she's released in the past two years as singles, from the sound to the ignorant tone, which will probably make it a favorite among her fans. It also has similarities to Ariana Grande's "7 Rings" and "thank you, next," which is hard to listen to on an album that celebrates the importance of loving yourself, not another person and their music.
Track 6: Vulnerable
Like the title indicates, this song is the story of a girl being vulnerable and of letting herself go. This song flows through its melody and is perfectly tailored for Gomez's voice, but its style is similar to that her younger self favored. The bridge is beautiful and sounds strangely similar to the music of Bollywood movies, but as the song closes it becomes repetitive.
Track 7: People You Know
This song cleverly turns up the autotune in the intro, but again, like "Vulnerable," it's repetitive. While the lyrics are clever, Gomez can't seem to think of anything new to add to the song beyond her chorus. This track would be fun to turn up loud and drown out your thoughts to, but it seems like a filler.
Track 8: Let Me Get Me
Another dance track, "Let Me Get Me," gets to the heart of the song from the moment you press play. In fact, the best part of the track is the beginning, before the lyrics devolve and the beat becomes annoyingly monotonous. It's a self-care song, meant to emphasize understanding yourself, especially your limits which is a double edged sword given that this song might be Gomez's limit. Gomez takes on an airy tone throughout this song, almost as if the focus is the music, and her voice is only a background element. 
Track 9: Crowded Room (feat. 6LACK)
As the first of Gomez's two tracks featuring other artists, the music takes on the feeling of trap, which fits with the rap 6LACK is known for. It's a refreshing break from the tracks before it and Gomez sounds almost like Ariana Grande. This track isn't unique just because of it's other artist, but because of its view on a relationship, which Gomez hasn't mentioned in a positive way until now. 
Track 10: Kinda Crazy
The metaphors Gomez includes in this song structure its light feeling as she sings about candy and lets her voice float through the melody. The beat had me tapping my feet and as she comes to the end of the track, her voice is layered as she harmonizes with herself and for more than twenty seconds she creates a miniature wonderland within the song. It's a track to remember, if only for its ethereal feel.  
Track 11: Fun
Within ten seconds of this upbeat, pop-infused track, Gomez has addressed the root of her lapse from the music scene, and already moved on to create a storyline following a basic loose crush, or "Fun." This is a track to dance with your girlfriends to. It's about an innocent flirtation, making it clear that Gomez doesn't want anything too serious in this song, and the beat reflects that.
Track 12: Cut You Off
Once again, Gomez addresses her mental health issues, almost comically this time, by chronic falling cutting her hair, which she did during her break from singing. She launches into this track which features a heavy beat, and right off the bat has a few choice words to say, which is a first for the artist who was created in the Disney scene and continually kept her music clean.  This track also features a brief instrumental in the middle, before Gomez launches into a repetitive end, which for once highlights a hard stop where her last lyric is an unfinished thought. "Cut You Off" is a metaphor in which Gomez cleverly draws parallels between a struggling relationship and her personal struggles with mental health, presenting them as one and the same.
Track 13: A Sweeter Place (feat. Kid Cudi)
Strikingly different from every song on this album, Gomez and Kid Cudi have created a masterpiece with a little something for everyone from the beat, to the lyrics sung by an airy Gomez. The song seems to reflect a conclusion Gomez has come too in the process of creating "Rare," that maybe the way this album sees the world isn't possible and so she sings of "A Sweeter Place" she could hideaway in. Kid Cudi complements this track well, without drawing from Gomez, and his lines don't seem awkwardly placed and predictable like 6LACK's were in track nine. This song's beat is beautiful and entrancing, closing Gomez's album by looking forward to how things could be for the artist mentally.