My trip to Maui, Hawaii over spring break
Personally, I've opted for a virtual method of learning this year. After getting up everyday and logging onto classes at my kitchen counter, both this school year and most of last has been a sedentary one. With the stress of school and the changes everyone has had to make throughout this pandemic, a vacation was just what my family and I needed. With precautions, of course.
The plan was to travel by plane to Maui, Hawaii. Before we were able to travel to this tropical heaven, my family and I had to take COVID-19 tests to confirm that we didn't have the virus. After this process, when all the tests came back negative for COVID-19, we first had ten hours of flight time to look forward to. Airplanes require that every passenger and all workers wear their mask over their nose and mouth throughout the duration of the flight. After arriving in Hawaii, there were multiple videos playing throughout the airport informing tourists, workers and anyone around to wear their mask to protect those around them. This rule was clearly enforced all throughout the island, especially for staff working at any location. Every restaurant my family would go to, staff was wearing masks. Every staff member that we encountered at the resort we stayed in for the duration of our trip was wearing a face mask at all times, making my family and I feel much safer and glad to know that there would be less of a chance of the spread of COVID-19.
A trip to the beach is always fun, filled with swimming and sandcastles. However, being on the beaches of Maui is an entirely different experience from our local Texas options. The cold waters of the Pacific Ocean don't seem so chill with the heat of the sun on you all day. The milder waves are amazing to swim through and for snorkeling. Thousands of various shells, fish and ocean life are everywhere even in the shallowest of waters. On the trip, I rented some snorkeling gear and there was a huge black sea urchin and dozens of fish right by the shore. Many days of my stay were spent both swimming and exploring the ocean. Taking a late night swim is absolutely beautiful and seeing the sunset from the waters provided such a memorable moment for me. 
Everywhere I went in Maui it was always pineapple, pineapple, pineapple. Pineapple desserts, fresh pineapple, candy pineapple, pineapple ice-cream and much more. While at least an element of pineapple was present in most restaurants we went to, fresh fruit and fresh fish were too. Some of the best juice I've ever had is a guava juice from the resort we stayed at. Other than fruit, some of the best fish I had were in fish tacos at another restaurant located in Whalers Village. Not to mention the delicious raw fish on sushi that was available. 
A huge tourist attraction is the Road to Hana. Rated one of Hawaii's best scenic drives, this experience is all about the journey, not the destination. While driving up the twisty, curvy and sometimes one laned highway, there are many bridges you drive over, a few waterfalls you'll pass, unique and beautiful plantlife, and moments where the ocean can be seen from thousands of feet up. Due to COVID-19 there were less shops and stands where food would usually be sold, as many of them have shut down. However, when reaching the top of the Road to Hana, there were multiple food trucks to buy food from and even a farmers market going on at the time of our visit. The drive took at least six hours, so this can definitely be an all day trip. 
On our way down the road, there was a little coconut stand where a local was selling and cutting open different coconuts for people to buy. It was cut open to where I could just stick a straw right in and start drinking the juice. The sweet liquid was delicious, as well as the meat inside. I highly suggest trying this when visiting Hawaii. If not for the taste of the coconuts, then for the experience of seeing fresh ones being cut open and seeing what's inside.
The entirety of a trip like this one, somewhere tropical where people are welcoming and run high on hospitality, is one that is so important and just fun overall. I never ran out of things to do, places to visit, and new foods to try. I think it's very important to be able to take time for yourself and family in any way that you can, especially since this pandemic and all of the fundamental changes now present in our lives. Again, take precautions if you're going to travel. The pandemic is still happening and it's everyone's responsibility to be mindful of others but also, find ways to take time with your family and still experience new things. 
About the Writer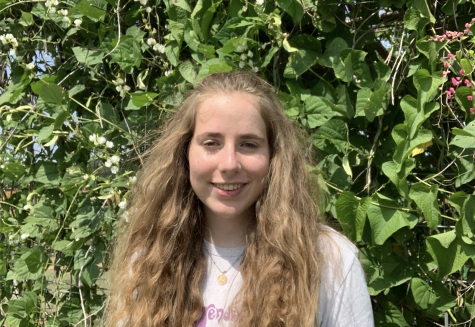 Abby Lincks, Staff Reporter
Abby Lincks is a sophomore and this is her first year on the newspaper staff. She is interested in journalism because she finds joy in helping to voice other peoples passions and accomplishments. In her free time, she enjoys reading, writing, and listening to music.