Academic UIL dominates at competitions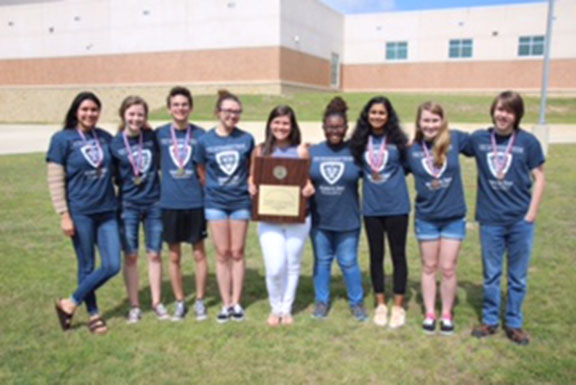 Hang on for a minute...we're trying to find some more stories you might like.
The past few weeks have been full of competition, especially for the academic UIL teams. Across the board, from science to journalism to math, VHS earned a total of seven first and second place team wins, as well as a large number of individual awards.
"I won [first place in] the news writing and feature writing portion of the journalism events," senior and member of the journalism team, Ashley Chase said. "We did a lot of practice UIL prompts in preparation and made sure that we timed them and everything. There were a lot of practice meets that we attended at other schools where we would compete against other students to see how we did and get some feedback on how to improve our writing."
In the UIL competitions, there are several ways that the teams compete. For journalism, participants receive prompts and have a certain amount of time to write a specific type of news story. However, science, social studies, mathematics and other competitions require a test to be taken, and the highest scores win awards.
"For accounting," team coach Candace Nassar said, "they have to take a test [that] tests over most of the skills and concepts they've learned this year, as well as some additional ones that I had to teach them. It's basically solving puzzles. It has a bunch of different groups on it that test different concepts, so it takes a lot of preparation."
Freshman Pierce Lai's preparation earned him four different awards: first place mathematics, first place number sense, first place biology, and second place science.
"To prepare we mostly practiced and did old tests," Lai said. "We also studied, a lot. I checked out a few books from the library. Mr. Perrone recommended a book that we all read. So that's basically how we studied."
The time and effort spent paid off, as the journalism team made first place overall with four first and second place individual awards.
"Honestly, I didn't expect to do as well as I did," Chase said. "I thought maybe I would get fourth or fifth place, so seeing I got first in both events was mindblowing to me."
Most recently, the speech and debate team competed at Barton Middle School this past Friday. Only one LD debater (LD stands for Lincoln-Douglas, a type of one on one debate), Bryce Farmer, advanced to the quarter finals. Speech and debate team coach, Mallory Matthews talked a little bit about what UIL means to her.
"My favorite part of UIL," Matthews said, "is seeing the culmination of everything and seeing all of their work come together in that one moment. It's also cool to see that this is what we've prepared for and this is what we've been doing and now you've got to go do it. It's tense and it's stressful, but to see how they respond in those situations, is just really cool."