A Time to Be Thankful
The house is filled with the muffled sound of toddlers squealing with delight in response to the arrival of giant balloons in the shape of Snoopy, Elmo, and Charlie Brown. The clanging of pots and pans, the scrape of chairs on the kitchen floor, the smell of turkey and pumpkin pie waft down the hall to the older children sleeping in, taking advantage of the break.
Such is my Thanksgiving holiday, the same routine every year. The women preparing the dinner, the men in the house talking about football, and my younger cousins rough housing, occasionally stopping to stare at the big Snoopy floating over New York City, or Santa Claus dancing in Times Square on the television. Sometime before noon, the younger kids get kicked out of the house, and resort to running around the big pasture behind our grandparent's house, throwing the football and playing tag. The boys continue to roughhouse, while the girls break up the fights, dragging the troublemakers back into the house just in time to greet the guests who have arrived.
My family is drawn to the kitchen, gathered and squished together in the small spaces around the table, arms around each other or hands being held while thanks for the meal is given. We then travel around the kitchen, piling food on our plates buffet-style, and then separating into two groups, the adults in the dining room, the children in the kitchen. It is a mostly chaotic time, but filled with love and laughter throughout the small home.
My family can be loud, crazy, and a little rough at times, and but they are the people I would do anything for. I would not be who I am today if it weren't for them, and they are all truly blessings to my life. So this Thanksgiving, I am counting all of them.
About the Writer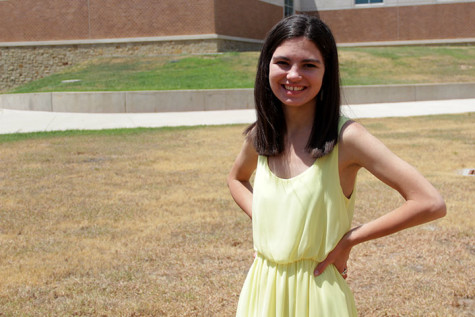 Emma-Rose Floyd, News Editor
Emma-Rose is a senior at Vandegrift. She has been a part of newspaper since her sophomore year. Positions she has held include Social Media Manager, and News Editor, a position she has had for two years. Emma-Rose  is also an active member of Key Club, dances in her free time and is a member of the UIL journalism team. She hopes to major in communications in college and become a full-time journalist.