Say hello to 'Bye, Bye Birdie'
Hang on for a minute...we're trying to find some more stories you might like.
This January, the Vandegrift Theater will be showcasing the musical Bye, Bye Birdie; a satire set in the late 50's that pokes fun at the incident of 50's Rock singer Elvis Presley's and his draft notice into the army in 1975. The musical portrays the drama that surmounts from Presley's parody character Conrad Birdie's last performance before going overseas. The plotline also follows Birdie's star-struck teenage fans' over-dramatized lives.
The musical is bound to be a hit amongst Vandegrift students because of the over-exaggeration of teens in the 50's and its underlying relativity to teens today.
"The script is really hilarious and the music will be stuck in your head for days, and it's about high school students so we'll all be able to relate," sophomore Nick Birk, who will be playing Hugo Peabody, said.
Last year the Vandegrift theater department showcased the musical "Kiss Me Kate," and this year the department is turning it up a notch with a larger cast, fresh music and a whole lot of fun. The energy level on stage will be through the roof during this year's Bye, Bye Birdie production.
"This year our musical, Bye, Bye Birdie, is fast paced and fun. People of all ages will enjoy it. Fitting into the mold of the 'All American Musical' it involves tons of dancing, screaming, and a few surprises," sophomore Martha Ruby Clark, who will be playing Helen, said.
Each actor cast in this musical exercises a high level of dedication to the portrayal of their characters, and their overall performance. Every actor values the audience's opinion and they all work their hardest to provide the best show they can.
"I love when the audience enjoys the show. Getting laughs is one of the most motivational things the audience can give back to us! Hearing about how fun it was for them to watch it is always such a compliment," sophomore Emily Adams, who will be playing Rosie, said.
The department has been working day and night on this production and each part of the Vandegrift Theater; whether it be the crew or the performers themselves, all come together and ensure that the show goes on.
"As a department we work very hard to get our shows running smoothly, which means cooperation between actors and techies, in the end we become one giant family," Clark said.
This January, mark your calendars, Vandegrift's production of Bye, Bye Birdie will be showing from the Jan. 24-26 and it promises to be a rockin' good time. Stay tuned for times and ticket information
About the Writer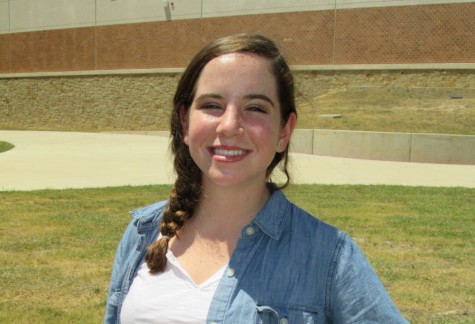 Kelly Rosenblatt, Editor in Chief
Kelly Rosenblatt has been on the Vandegrift Voice newspaper staff for three years and is the Editor-in-Chief of the 2014-2015 newspaper staff. Kelly Loves sharing her opinions and news about local events with her community. Kelly is a senior this year and is interested in a possible career in journalism. She strives to write stories about topics that are important to people her age and to the fellow members of the community.