Singers perform in virtual solo contest finals
At the end of the choir program's solo contest finals performance, which was streamed on March 25, performers Maura Connors, Akash Shah and Andrea Patriarca were announced as this year's three winners, each receiving a $250 prize which they can use to pay for musical enrichment–such as voice lessons–or college tuition.
"I was definitely surprised," Patriarca, who had also been one of last year's winners as well, said. "I worked really hard, so I was glad to get that award, but everybody who performed was so amazing, and I was just happy to have this opportunity again."
Patriarca said her brother, formerly a choir student himself, encouraged her and gave her feedback that helped her improve her performance, and Connors credits her voice teachers and directors  for helping her grow as a singer.
"My voice teacher helps me a lot," Connors said. "She's the reason I do competitions in the first place, and she's my biggest supporter, so she definitely helped me prepare [for my performance] the most."
Normally finalists would perform in-person in front of a large audience, but due to COVID restrictions, this year singers created videos of themselves with a side by side recordings of their piano accompanist, Austin Haller.
"I was still nervous recording, but not having that extra component of singing in front of others was definitely a relief," Connors said. "It was a little easier because I had time to rerecord, [but] it can be rather frustrating to not get it perfect or to not make it how you want it to be, [which] can make you want to record over and over again, which is definitely the only downfall [of performing virtually]."
The Viper choir does its solo contest independently, instead of through the UIL program, which has no finals performance, and according to choir director Michael Zook, often has judges who don't provide good feedback, in which case singers gain little from the experience.
"What I love about what we do is that I can control who comes in to judge so I can make sure that judges are of high quality," Zook said. "And then I love that we have [this] finals performance where students need to perform in front of an audience, because a lot of times that one judge is the only one that gets to see [the performance], but [this way students] have the opportunity to perform in front of many people."
The judges are often professors from universities–in this year's case, Professor Abigail Pena from Concordia University and Dr. Mike Diamond from Baylor University. According to Zook, performing in front of them can be a good opportunity for students interested in attending those schools and potentially even working with those professors, such as in Patriarca's case.
"I was really excited to perform for both judges, but especially the Baylor judge, because I [want] to continue doing choir at Baylor," Patriarca said. "One of the reasons I chose [to go to] Baylor [was] because of their choir program, and I had been going to their summer music camps every year, and I just fell in love with [it]."
Besides the three winners, there were seven other finalists: Avani Rayasa, Casey Caldwell, Sophia Swoyer, Riley Galligher, Raine Collier, Noah Levine and Megan Schmitt, for a total of 10 performers. These 10 were selected by judges from among 53 varsity and non varsity singers who participated in the solo contest process.
"[The judges] first listen to voice quality, then they look at the difficulty of the song that's chosen, and how well the student performed [it]," Zook said. "Then the last thing they look at is visual performance–are you telling a story, not only through how you sound, but through the physical? So all of those things factor into the overall performance, [which is how] the judges [make their decisions]."
COVID has certainly changed and restricted choir and singing performances such as this one, but Patriarca expressed how being able to sing has helped her cope with the stress of COVID.
"It's been really helpful because the whole COVID situation is so stressful, but being able to sing is like an escape for me, and it allows me to express myself and it brings me a lot of joy to sing and perform for other people," Patriarca said.
About the Writer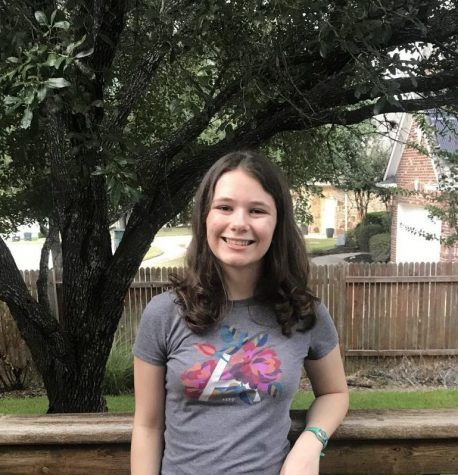 Brianne Chase, Staff Reporter
Brianne Chase is a junior at Vandegrift and this is her first year in newspaper. She has been in choir for six years and is a part of the women's varsity choir. After she graduates, Brianne plans to study microbiology at BYU, although she hopes to also continue writing in her free time.