Gearing up
Robotics team prepares for competition during COVID-19
Dancing around the garage, she laughs and jokes with her team as they all move to the music. While watching the drivers practice steering the robots, they sing the lyrics to the song at the top of their lungs, filling the room with laughter.
Sophomores Shriya Ganesan and Dhruv Shah are part of the 4545 Ouroboros FTC Robotics Team. Ganesan is an Assistant Project Manager and a part of the software team. Shah is a driver and a part of the hardware team. Their team has been working all year to cope with the challenges of COVID-19, adjust to their new school wing and prepare for many competitions, the most recent one occurring last Saturday.
"Once you really learn about robotics and get into it you really love it," Ganesan said. "When I was in eighth grade, the goal was to join ViperBots because they were so good. And after applying, I got on it and it was everything I imagined it to be, and I'm really happy that I decided to apply."
This year, COVID-19 has posed a new challenge to the team from clocking in to the lab for contact tracing, staying strictly six feet apart, wearing face masks and shields, and sanitizing each area, Ganesan is grateful for the new robotics wing that opened up this school year.
"We've been really lucky this year that we've gotten a new wing and that we're able to actually go into the robotics lab," Ganesan said. "With the new wing, we have a larger shop where we cut all of our materials. Last year, it was really cramped because we were trying to fit 10 teams inside of there, but now we have a space where we can be six feet apart."
In preparation for this most recent competition, Shah said they had to overcome several issues with the hardware, the wheels and many other components. He also remembered a joke within their team that the brand "Go Build a Wheels," which are bright yellow for distinction, are known as their good luck charm so that their robot would run smoothly.
"We had quite a bit of hardware issues this year," Shah said "And when one thing was fixed, another thing would break. A lot of the time, we ended up duct taping it together, like what we did with our shooters. But, we just have to find new ways to make things work and prepare the best we can."
With all of these challenges that their team has overcome, Shah reflected on their overall performance in the latest meet. Although there were no placements or advancements, this was a useful meet that will help them prepare for the competition in May.
"We felt pretty good about our performance and were able to improve around 50 points, which is amazing," Shah said. "But we are also looking forward to improving more in the next meet." 
Even with the competitive nature of robotics, Ganesan said that there is a strong community between the robotics teams. She said that they support each other and want each other to do well.
"All of the people in robotics are just so supportive of each other no matter what team you're on," Ganesan said. "They will help you no matter what, and I feel like all the upperclassmen in my first year were really helpful to me. There's such an air of support within the Viperbots community even though we're competing against each other."
Even in Shah's case, he had no experience related to robotics but was still able to figure it out with the help of other people in robotics. He said that with band and robotics, he learned a lot about time management and asking for help.
"I had no experience in robotics at all and I was also in band, so I couldn't be there for any after school practices," Shah said. "I had to figure out most of it by myself, but I learned that it's okay to ask for help."
As an APM, Ganesan said she looks up to the Project Manager, Grace Ballengee. She admires Ballengee's leadership skills and aspires to continue what Ballengee is doing.
"From a leadership standpoint, I really look up to Grace because she is a really good leader and we work together a lot," Ganesan said. "I think we've really been able to make the most out of our COVID time, and I want to keep her same leadership style going for next year as well."
Not only is having community emphasized in robotics as a whole, but within their team, they work to build relationships outside of practice. One of the things Shah recalled was when before COVID, the team would have Taco Thursdays and hang out at Taco Bell every week. Through this tradition, they were able to build their team bond outside of the robotics lab.
"In my opinion, our team had the best team culture in the fact that we truly like each other and we like hanging out with each other," Ganesan said. "We aren't strictly a work relationship. We want to hang out with each other and come into robotics."
Ganesan also clarified a misconception about robotics only being about hardware and software. She said that there are so many different aspects that are equally important, especially marketing.
"Most people think that robotics is just hardware, software, building things, or programming," Ganesan said. "That is not true whatsoever. Honestly, marketing is the main reason we made it to world the past two years and it's so important. If you like graphic design or writing, or just want to be all-rounded, then robotics can also be for you."
Both Ganesan and Shah said they have absolutely loved their experience in robotics and said they would definitely encourage people to join.
"Even if there's a small chance that you might want to be in robotics, apply for it, because I really think that every single culture on the team is different and they're all amazing in their own ways," Ganesan said.
"And you will have fun, I can guarantee it."
About the Writer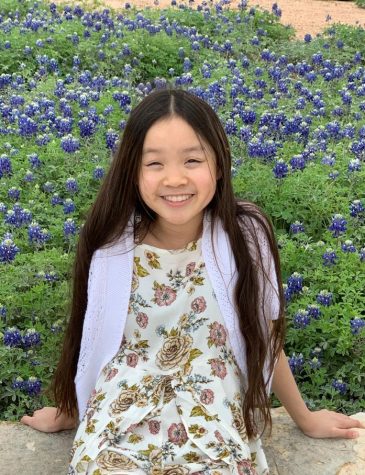 Dayna Ung, Staff Reporter
Dayna Ung is a sophomore, and this is her first year on the newspaper team. Outside of school, she is part of a theatre organization called CYT (Christian Youth Theatre), and she loves to bake, play piano, and read.