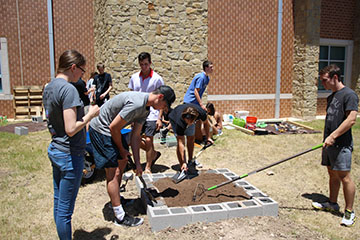 The environmental systems classes have been growing their knowledge as well as and fruits, vegetables, flowers and herbs by spending this six weeks creating gardens for the school.
"The gardens are to help create a sense of community to the school," senior Sophie Hebdon said. "Everyone including people that don't go to Vandegrift can use it and get produce from it."
Renee Robinson's class has started the first school garden. The class spent about six weeks writing the grant for the garden. Once they sent it in they received $1,000 for their garden.
"It is pretty easy," senior Garrett Abeel said. "We had to get a grant for the money and we are now in the process of building it."
The garden will be available for anyone in the community rather than just the students. It's a chance for the people to connect with each other and create something bigger than just a garden.
"The gardens will help the school by providing a place for the kids to get involved in outside activities," senior Cydney McCollum said. "It will teach them responsibilities on how to take care of something and educate them about a new area of science."
Although the gardens will be located at the school, people from all over the community are able to use the gardens and should, at the same time, be learning as they use the gardens.
"It's a community garden so anyone has access and can help," Robinson said. "So a large purpose of it is to show kids and people that you can grow your own food, you don't necessarily have to put all the chemical and pesticides in it."
Since the students have spent such a large portion of these past six weeks working on this, the students and teacher are able to learn and see what it is really like to grow their own produce.
"I'm learning a lot about what it takes to make and maintain a garden as well as learning that some plants need more maintenance than others," McCollum said. "I have also learned how to communicate with the other people in my group and sharing time while working on the garden."
This is Renee Robinson's last year teaching here but she has made a large impact on creating something new for the school.
"The students are learning a very important thing while they complete this," Robinson said. "I think that the kids are seeing that if they put their effort into something, they can see a product."
e