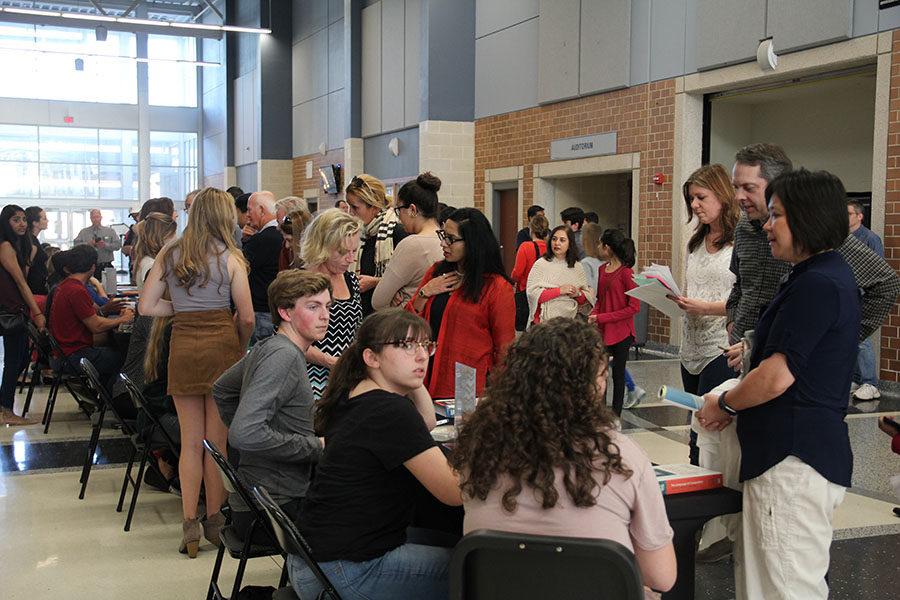 AP Night was an event held in Main Street after school on Monday. Students from AP and dual credit classes shared their experiences with parents of incoming freshman, current freshman and sophomores.
"It's just providing information to let them know what their advanced options are," counselor Peggy Morisset said. "I like how we include the students because students give a great perspective based on their experience. I think it's great to get that personal touch."
The program of exchanging information has been ongoing for more than four years and Morisset thinks it's of great benefit to students. She also hopes they take the classes that are right for them.
"I think it's important when it comes to advanced offerings to take advantage of them," Morisset said. "I know at Vandegrift it's so competitive and it's all about the weight by taking those advanced classes. However, there's got to be a good balance and that's the important thing."
Many parents that attended had come to get an idea of that balance.
"I want to be more informed about the AP Program and the IB Program that's new to the school," parent Mariela Minor said. "I want to see what the possibilities are, and the availability of [IB] and how interested Ryan would be in it. It's always good to hear other parents questions about doing things I haven't thought about."
Some students already have an idea of the classes they want to take during their freshman year.
"[I was] thinking about taking AP Human Geo," eighth grader Josh Alexander. "I think it's got a lot more rigor, but I think it'll be worth the risk."
The students sitting at the tables know all about the risks that come with such heavy classes.
"Study. A lot, and do the work," junior Madi Connor said. "Don't procrastinate. Learning wise and in this class particularly we read a lot, so I read a lot of the books which is good and I've gotten better at writing papers, which is always a good thing, but learning wise, do not procrastinate ever in your life."
Dean of Instruction, Christa Martin, said the students like Connor who help to share their opinions and experiences is what is the special part about AP Night.
"The students share such helpful information from a perspective that teachers and administrators do not have, so it is powerful," Martin said. "I hope after walking away last night, parents and students feel relief that support structures are abundant, gain understanding of tips for success, and feel inspired to try."