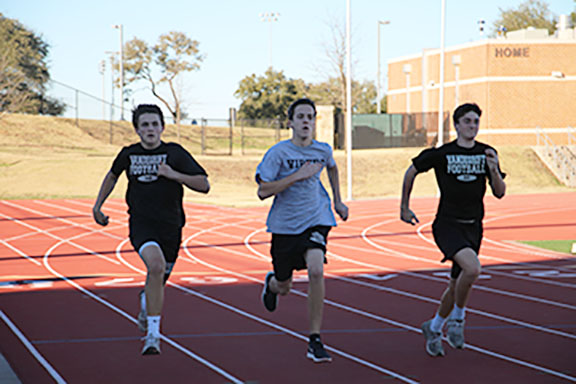 As the fall sports come to an end, Track and Field is just beginning, which means early mornings and long afternoons filled with running, vaulting, throwing and jumping.
Track officially started this week with tryouts on Monday and Tuesday. Two sunny days perfect for running.  
"Tryouts were hard," sophomore Varun Kalyanapuram said. "We ran 6 200 yard dash and around 6 people threw up."
Coming into high school, the students have an idea on what they're good at and what they want to do. This is helpful to the coaches and makes trying out easier.
"I plan on doing the high jump event." junior Kartik Akkihal said. "It's what I've been best at since I started in middle school."
Vandegrift has been moved up to 6a this year, which means that the track athletes can expect to face some tougher competition.
"Lake Travis is our biggest competition," sophomore Skylar Knitowski said. "They have a large variety of skilled athletes."
For freshman, high school track can be harder than middle school track, in high school they practice more and face harder competition.
"It's a lot more intense and the workouts are harder," freshman Chloe Gross said. "Also there is a bigger group of people to go against."
Track can start to weigh in on the double sport students, It starts to get overwhelming if they do not stay on top of their work.
"Going to run in the morning and then to a morning lift for football gets tough," Akkihal said. "Then once you go to track again after school, it just becomes a really long day."
The Vipers look to run fast and jump far in their first meet on Feb. 16.
"My favorite part about the meets is having the chance to bond with my teammates," sophomore Maicol Salazar said. "and watching people race in the 100 meter dash."