Ina Edstrom Above Twelve Feet
Hang on for a minute...we're trying to find some more stories you might like.
She walks into a large gym that smelled of weights and sweat. She grew more and more nervous, but not because of the gym's aroma. She was the only girl in a gym full of male wrestlers.
Ina's drive to better herself led to her joining an all male wrestling class during the school day. After reviewing her options, the dedicated pole vaulter decided that this physical training class would allow her to improve the skills she needed when competing in her field event.
"There's no track class during the day, there's only cross country. Last year I didn't do the cross country period or any sports during the class day and I felt like I was getting behind," Ina said. "So I looked at the choice sheet for classes, and I was like well there's wrestling on here maybe I could do that. So I emailed the coach and I was like 'would this be okay' and he was super nice about it. He was like 'yeah you can for sure do that' so I just ended up joining [the wrestling team]."
This was the first year Ina trained with the wrestlers, and the boys treat her as they'd treat any other teammate. Head wrestling coach Paul Muck said she is always putting forth a positive attitude during the workouts they do on a daily basis. Coach Muck also pointed out Ina's focus, effort and attitude as part of what sets her apart from other athletes.
"Ina does a great job doing exactly what I ask her to do," Muck said. "She is very focused on perfect technique on all of our lifts and always gives great effort with a positive attitude. Athletes that do those three things are very easy to work with."
She has broken school records throughout the season, and her coaches show an abundance of appreciation for her dedication to the sport. Ina's pole vault coach as well as coach Muck point out the importance of her focus while she is training and competing.
"Whether Ina is at practice or competing in a pole vault event, she is always focused, determined, and driven to perform at her best," pole vault coach Laura Joiner said. "Ina has proven to be an elite pole vaulter with all the personal and school records she set this season.  I'm excited to see her enjoy continued success as a college pole vaulter!"
Setting foot into a new gym can be overwhelming especially if the surroundings and obstacles feel far from ones usual comfort zone. In this case, the only obstacle that came with joining the wrestling team was keeping up with the weights the boys were lifting.
"I guess it's like I can do most of the things they can do," she said. "It's just like when we do weight training I have lower weights because I'm not like, obviously I'm not a boy, so I'm not that strong. But yeah I can do bodyweight exercises about the same as them. I can do pullups and when they do ab workouts I can do that too."
The training Ina goes through everyday is not without reward or recognition. On April 12 she qualified for the Texas Relays where coaches from colleges such as UT San Antonio and St. Angelo University have approached Ina about joining their track teams.
"[Texas Relays] was a really good experiences," Ina said. "Because there were a lot of coaches there watching from colleges, like one guy came up to me he was telling me he wanted me to go to their school."
When Ina competes she's able to showcase the practice put into her event. During area she placed, region placed, and districts placed.
"[Area] was really fun I was not worrying about qualifying for the next round, but it was a close competition between me and one girl for first," she said. "It was pretty close we both cleared 12 feet and then she decided to skip over 12"3 and go to 12"6 and I decided not to skip it and I cleared it and she didn't make it on the next height so I ended up just like beating her because she skipped the height."
Returning from a back injury this season Ina hasn't lost the drive for pole vault. Before the small injury that caused her to ease up last season, Ina had won the AAU Junior Olympics in 2017. Later on after making the win she had injured her back and had to take a small break to rest, only to come back with more strength and dedication.
"I think I improved a lot sophomore year," she said, "I went to the junior olympics that summer and I was doing really good, and then all of a sudden I hurt my back. Then i couldn't jump for a whole year. It kind of set me back and now my back feels way better, now I've been just improving steadily."
After the obstacles that Ina faced throughout her athletic career she kept a positive outlook on the future and continues to look ahead with that same optimistic point of view.
"I feel like I've learned it's okay, life happens," Ina said. "bad stuff happens and you just gotta push through and eventually it can get better."

About the Writer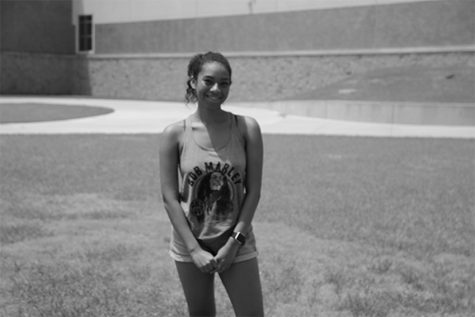 Delilah Woods, Staff Reporter
Delilah Woods is a junior and this is her first year writing for the Voice. Along with being apart of the newspaper staff, she runs cross-country for Vandegrift. She loves playing the guitar and being outdoors, and her favorite color is green.