Sports med trainers shine on the sidelines
Hang on for a minute...we're trying to find some more stories you might like.
Driving to Steiner Ranch to collect water was not in the job description. However, the athletic training team stepped up and did it anyway during Austin's recent boil water ban to ensure the football team would have safe water to drink during practice. This is just one example of how this dedicated group of students is willing to go the extra mile, pun intended.  
"I think for one they are underappreciated," senior football player Matthew Sarantakes said. "They put in a ton of work and sometimes they don't get recognition for that. They're up early at the field in the mornings before any of us get there, and they're the last to leave practice after school. They're always there to help out any athletes that may be hurt. During the boil advisory they even drove all the way to Steiner Ranch to fill up the water for us, so it shows their commitment to the athletics at Vandegrift."
As the football team looks to continue their perfect season tonight at Dragon Stadium against Stony Point, the trainers will be alongside them, ensuring that the season finishes strong. The athletic trainers have always been present to offer assistance, both during practice twice a day, and during every game. For this reason, the players rely on the trainers to recuperate and replenish ahead of each Friday.
Although it is not the easiest task for the trainers to remain attentive on the sideline, the trainers are able to take pride in the development of the team.
"It has been really rewarding," senior trainer Ava Chiarelli said. "It's been great seeing how all the players have progressed throughout the season, and how a lot of them have been able to really improve."
The trainers preside over any physical injuries the players may endure during practice or games, along with making sure that the players have enough water to stay hydrated. And as football is a physically demanding sport, trainers can feel gratification whenever a player is able to return to the game they love.
"Seeing athletes succeed and get back onto the field is great," head athletic trainer Linda Bowman said. "Seeing them reach a goal that they may have set for themselves following recovery is one of the most enjoyable parts."
As one of the two head athletic trainers, Bowman instructs all of the athletic trainer students on how to approach a sport related injury. The students spend time both in the athletic training center on campus, and at games throughout the year in order to gain experience with sports medicine.
"We've taught them the basics of first-aid," Bowman said. "How to treat a wound, how to recognize injuries, and if there is anything of concern, to let us know so that we know that we have to help the athletes. We tell them what time to be at practice, what's expected of them, and just simple rules of if there is somebody hurt, come find us."
However, despite all the organization and effort that is involved with bringing players back to full strength, the demanding nature of football season can prove to be too much to handle at times.
"I wish we had more time to do more to help more kids," Bowman said. "Time is one of the biggest challenges, because sometimes if somebody is hurt, we need more time to get them ready for the next game and we might not be able to get him there. Time is something that sometimes we are short in."
Veterans of the athletic training program have grown used to the buildup that develops before every Friday night, and it is safe to state that a few have even grown as comfortable as the players on the sideline.
"I like the energy on the sideline," senior trainer Bailee Chamberlain said. "It's challenging having to show up super early for practice, but we all work together really hard to help each other out, and pick up after one another."
It could be that this sense of family present in both the training team as well as the football program is partly responsible for the team's excellent stretch of form. Regardless of what it might be, the work ethic of the trainers will continue to be passed down.
"I think it's important to take it step by step, because you can't really anticipate how hard it is to be a trainer," Chamberlain said. "It takes a lot of baby steps in order to be a good trainer."

About the Writer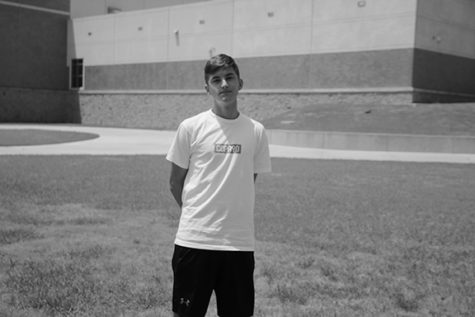 Miguel Blanco, Staff Reporter
Miguel is a senior and this is his first year on the Vandegrift Voice staff. He enjoys learning about history, spending time with his friends and loves anything about soccer.