Boys varsity basketball named district champions before 1st playoff game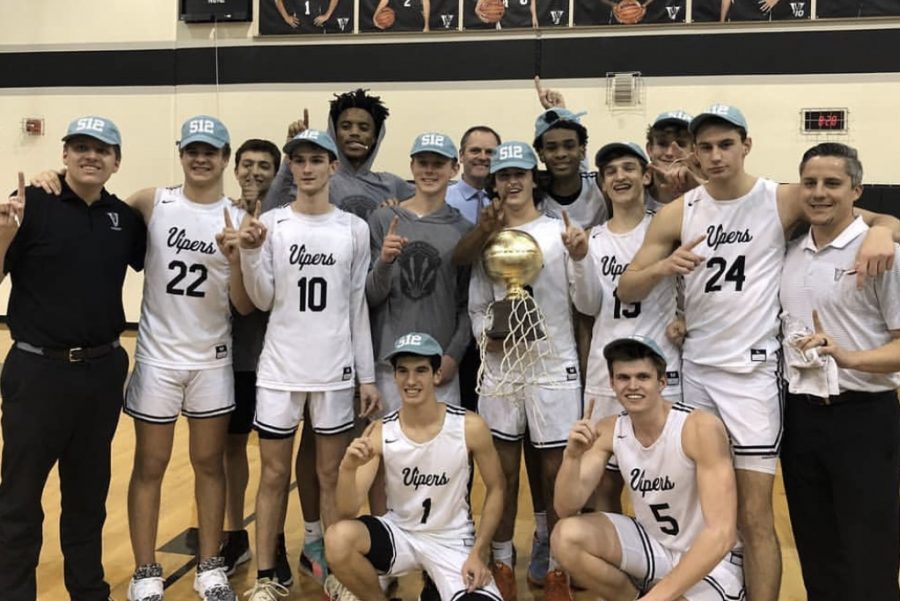 Kennedy Byrne, Contributing writer
February 19, 2020
The boys basketball team will play their first round playoff game Feb. 25 at home. This comes after they secured the District 13-6A championship earlier this month.
"District titles are extremely hard to earn, and the kids did exactly what they had to do," head coach Cliff Ellis said. "I am really proud of this team for reaching this goal and getting it done as early as we did. I've never had a team in 20 years that clenched the district title that early with that many games left."
Having nine seniors on the team has been a big contribution to the success of this season. Every senior on the team has been a part of the program for all four years.
"It has been a very powerful tool this year to have this many seniors," Ellis said. "They all show so much leadership, which makes it difficult for them to let up, and it makes them easier to coach."
Senior starter Greg Brown is using this championship as an opportunity to practice harder, and make the most of his last year as a Viper. 
"This win feels great and well deserved," Brown said. "But it is also a reminder to keep working, because we're not done yet."
Although the date of the team's first playoff game is confirmed, their opponent is still unclear. However, no matter how skilled the other team is, the Vipers are determined to play their hardest.
"Because we know this is [the seniors'] last go-around, it makes us work even harder," Brown said. "We want to go out with a bang."
This year's basketball team has been in the spotlight from the start of the season. Securing the district championship was a huge win, but they still have a long road ahead of them. 
"We are only worried about our first round opponent and getting past that obstacle, then onto the next round," Ellis said. "We will continue this mindset hopefully all the way to the regional or state tournament."