Cheer to attend school board meeting Feb. 27 for recognition
The varsity cheer team traveled to Fort Worth on Jan. 16 to compete in the UIL state meet. After becoming the only team in the district to medal in the competition, cheer has been invited to be honored by the district at a board meeting on Feb. 27.
"I'm always really proud and excited to be representing Vandegrift," cheer captain Riley Francis said. "I like being involved in the school and being able to spread school spirit and have fun in everything we do."
The team placed first in Crowd Leading, second in Fight Song and fifth in Band Dance, with an overall position of third place. Vandegrift finished only 0.6 points behind the first place team.
"I'm really proud of the way that they performed and all the hard work that they put into it," coach Brianna Roughton said. "We train hard and put our whole heart into everything we do, and I wouldn't change our team for the world."
The team will be celebrated at an upcoming district board meeting for being the only LISD team to place in the top three.
"We were the only team in the district that medaled this year so it's kind of a big deal," Francis said. "We put in so much work to get to where we are now, and I'm really excited that they're recognizing that."
The team started training in November and kept a rigorous training schedule, practicing a different element of the routine every day. This extra work paid off when it came time to compete.
"Most people think it's just waving pom poms around but it takes time and hard work and dedication, and that's something we take a lot of pride in," Francis said. "I think people will maybe see that more now that we've done so well in state."
The team also participated in a showoff in San Antonio prior to the UIL competition. The showoff is optional and serves as a trial run for competing teams, and a chance to perform in front of judges.
"We built off of the critiques we got," Francis said. "We're always doing whatever we can to be better and improve as a team, so after all that work medaling feels pretty special."
The future is bright for the VHS team after this victory, having secured their place in the high school cheer world as a team to look out for.
"We plan well and we train hard, so we excel," Roughton said. "Next year I'm hopeful we can beat out the competition and go for the gold."
About the Writer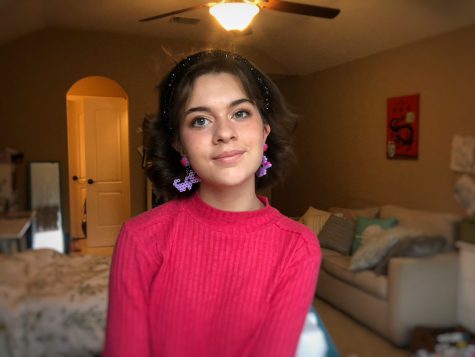 Isabel Young, Staff Reporter
Isabel is a sophomore and this is her second year on newspaper. Outside of school, she's also involved in dance. In her spare time, she likes to read, paint and listen to music.