Varsity basketball to fight for first district win against Round Rock
Hang on for a minute...we're trying to find some more stories you might like.
Following a 57-45 loss to Vista Ridge this Tuesday, varsity boys basketball team will be looking to bounce back tonight as they take on Round Rock. Beating Round Rock will prove to be a difficult challenge with junior Greg Brown's probable absence due to injury.
"We're trying to use Greg's absence as a positive," head boys basketball coach Cliff Ellis said. "Obviously when you have a player that scores 35 points a game, that's tough to replace. But him being out also allows for other players to fill the role and get outside of their comfort zone to see what they can do. Hopefully, once Greg comes back, those players will be more likely to step in and continue with their success when they are called on."
With the absence of Brown for the game this Friday, the team will have to rely on the preparation that goes into every district game.
"We are ultra-prepared during district play," Ellis said. "District play is very different from non-district play or a tournament where we may not see an opponent at all before playing them. Prior to the district games, we will have our JV team run the other team's offense or defense in preparation."
Although the team has not experienced the best of starts to district competition, with the team still looking for their first win in district play, players appear to be physically ready for any physical play they may face against Round Rock.
"It definitely helps to play at home more," senior Diego Morales-Burnett said. "But I don't think two games a week has been physically taxing because we have had enough rest between games."
With the absence of Brown, the team has struggled to put up enough points during the last half of the game. Despite this, the players will put their trust into the tactics of the coaches and the team mentality that brought them success in previous games.
"We emphasize team basketball, and playing well as a team," senior Zach Chmura said. "We believe that's what will win us games. I also think our transition offense has been the strongest part of our play so far, we've been pretty consistent with our transition offense so that's where the bulk of our points will come from."

About the Writer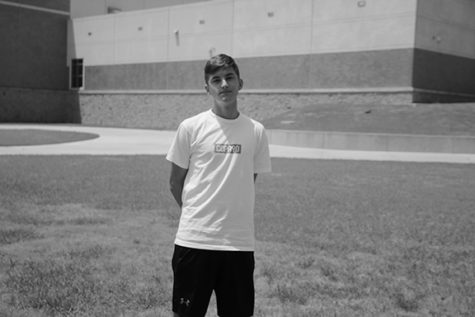 Miguel Blanco, Staff Reporter
Miguel is a senior and this is his first year on the Vandegrift Voice staff. He enjoys learning about history, spending time with his friends and loves anything about soccer.