Bowl season preview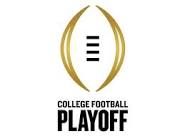 It's the most wonderful time of the year for college football fans. Not Christmas, but bowl season. The 41-game bowl season begins on Saturday, and I will give my insight on each New Year's Six matchup (winners are bolded).
Rose Bowl:
Penn State (11-2) vs. USC (9-3)
"The Granddaddy of Them All" is one of this year's most intriguing bowl matchups, as both of these teams are currently playing exceptional football. Penn State has won nine in a row, and USC has won eight in a row. The most important matchup in this game, in my opinion, is Sam Darnold's performance against Penn State's strong defense. If he can expose the Nittany Lions' strong secondary, Darnold can win it for the Trojans.
Sugar Bowl:
Oklahoma (10-2) vs. Auburn (8-4)
Oklahoma went undefeated in Big 12 play this year, and they will likely advance to 1-0 against the SEC in what I expect to be a blowout. Auburn, and the SEC in general, has been disappointing this year, and the Tigers cannot seem to get any offensive production. The Baker Mayfield-Dede Westbrook combination will be too much for the Auburn defense to handle.
Cotton Bowl:
Western Michigan (13-0) vs. Wisconsin (10-3)
Western Michigan has been this year's cinderella team in college football, but their magic will run out in the Cotton Bowl. Western Michigan has been outstanding this year, but they will get a dose of reality when they have to play their first top 25 team of the year. Wisconsin's defense will stop the Broncos' offense, which struggled in the MAC Championship.
Orange Bowl:
Michigan (10-2) vs. Florida State (9-3)
Florida State has bounced back from a rough start to the season by winning six of their last seven games. On the other hand, Michigan had a disappointing end to the regular season, losing to Iowa and Ohio State, removing them from the playoff picture. While Florida State may be playing better as of late, I expect the Wolverines to win this game. Michigan will have a chip on their shoulder after losing to rival Ohio State, and Florida State will have trouble moving the ball on Michigan's stout defense. However, the Seminoles will keep it close because of the home-field advantage.
College Football Playoff:
Fiesta Bowl:
Clemson (12-1) vs. Ohio State (12-1)
Many fans are skeptical of Ohio State appearing in the playoff, but I expect the Buckeyes to fire on all cylinders and prove they are worthy of being in the playoff in the Fiesta Bowl. Ohio State's offense has struggled, but so has Clemson's defense. If Ohio State can get past their offensive woes, I expect them to easily defeat the Tigers, who did not look impressive against Virginia Tech in the ACC Championship.
Peach Bowl:
Alabama (13-0) vs. Washington (12-1)
The 2016 Peach Bowl features the two teams who are possibly the best in the nation. However, I don't expect Alabama to have any trouble with the Huskies. Washington's offense is solid and their defense is stout, but it is near impossible to run with success against the Crimson Tide. The only way Washington has a chance to defeat the reigning champions is if Jake Browning is on his game and can complete his deep ball. If not, it could be similar to most Alabama games this year: a blowout.
College Football Playoff Championship:
Alabama (13-0) vs. Ohio State (12-1)
While Ohio State is a strong team with one of the best defenses in the nation, they do not have much of a chance to defeat Alabama. Ohio State's offense, which has struggled lately, will not be able to move down the field on Alabama's defense, which allows the least amount of yards per game. The Tide's defense will force multiple turnovers, helping lead them to back to back national championships.