Movie Review: "How the Grinch Stole Christmas"
"How the Grinch Stole Christmas" is a 2000 American Christmas fantasy comedy film directed by Ron Howard. It stars Jim Carrey as the Grinch alongside Taylor Momsen as Cindy Lou Who and Kelly the dog as Max , the Grinch's furry sidekick. This movie takes place in the magical, Christmas-obsessed town of Whoville, that happens to be on a snowflake.
The movie is about the Grinch (Jim Carrey), a green, fuzzy, individual who lives on a cliff overlooking the town of Whoville. His only companion is his dog, Max (Kelly), as he is an outcast because he hates Christmas — the Whos' favorite time of the year. His hatred for the Whos and their favorite holiday leads the Grinch to plan to steal all of the Whos' food, presents and decorations — putting a stop to Christmas.
"How the Grinch Stole Christmas" won the 2001 Academy Award for best makeup and hairstyling. Their costumes were amazing, including the numerous big, puffy and colorful dresses. The makeup and hair crew did an amazing, from the actors' cute updos with braids and crazy ponytails to their long fake eyelashes and red button noses.
This movie is extremely well thought out. Songs in the movie include "Where Are You, Christmas?" performed by Faith Hill. In the movie, Cindy Lou doesn't understand where her Christmas spirit is, and this song helps us better understand it. "You're a Mean One, Mr. Grinch" by Jim Carrey is talking about the Grinch and how what he's doing to the Whos is mean. "Green Christmas" by the Barenaked Ladies shows that in spite of all the things the Grinch did, he can still be a part of Christmas like all the other Whos in Whoville.
"How the Grinch Stole Christmas" is a holiday classic. It's perfect for hanging out with the family on Christmas Eve or Christmas day with a cup of hot cocoa for a funny peaceful night. I would recommend this movie for the whole family.
About the Writer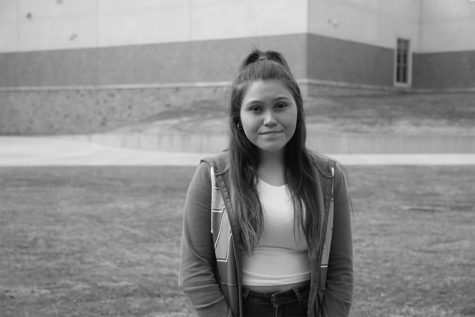 Xanatha Dowden, Staff Reporter
Xanatha Dowden is a junior and this is her first year on the newspaper staff. She moved to Vandegrift from Round Rock High School earlier this year. Xanatha was involved in photography and yearbook before joining our staff.