Warcross Book Review
Warcross is a science fiction book written by Marie Lu. Like Marie Lu's Legend series, this novel is exciting, surprising, suspenseful, and overall one of my favorite books of all time. The story revolves around a girl named Emika, who lives in New York City and is struggling to make money as a bounty hunter/hacker. She lives as a shadow, unnoticed and given little to no thought. All this changes when she hacks into the biggest online event in the world, known as Warcross, and reveals her identity to the creator of the game, Hideo Tanaka. Rather than punishing her for her crime, he enlists her help to take down Zero, the cunning hacker whose goal is to take down Warcross for good.
One of my favorite parts of this book are the many unexpected twists, as well as the sort of detective aspect of the story. The reader gets to travel with Emika as she discovers new clues and information to piece together the big mystery: who is Zero? I was, however, a little disappointed in the reveal of Zero's character. In my opinion Lu took the easy option for who Zero really was, but she made up for it with her reveal of Zero's motives for taking down Warcross, which were very surprising. Lu is truly a master of pacing, there was never a boring moment in the book, but I also never felt like she was rushing things along to get to the conclusion of the story. My favorite character of the story was Hamilton Jimenez, one of the members of the Warcross team known as Phoenix Riders that Emika joins later in the story. She is a crafty, energetic, high-spirited girl who brings up the morale of her team and overall is just a really fun character to read about. My least favorite character was Hideo Tanaka, the owner of Warcross. His character is very closed off, and it makes it hard to connect to him or really care about what happens to him. I also have an issue with his backstory and the reason he started Warcross in the first place, because it doesn't really make sense to me, but I won't reveal anything about that because it's a big part of the plot.
Overall, I would highly recommend Warcross to anyone who is interested in science fiction world-building type books. While the premise of this book, a completely immersive video game, has been done before by many others, Marie Lu does a good job of keeping her version of this story unique and exciting.
About the Writer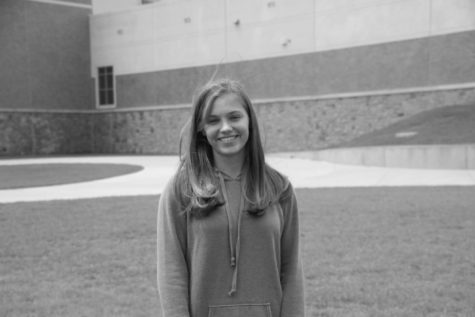 Elena Aventa, Staff Reporter
Elena Aventa is a junior and this is her first year on the newspaper staff. She is involved in ASL Honor Society, NHS, lacrosse, and her church group. In her free time, Elena likes to read, watch Friends, and walk on the trails.