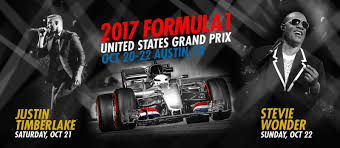 Formula 1 weekend is fast approaching. With just 12 hours left you should gear up for the fast pace fun ahead! Formula 1 is a can't miss opportunity to experience the power and vigour of the motorsport's world, to get to see the world's best drivers step foot on the same track for one weekend. Not to mention the headlining performances.
Scheduled to perform at the Circuit of The Americas; international superstar Justin Timberlake performs at the COTA's super stage on Saturday Oct. 21. This stage is completely outdoors much like ACL except with lawn chairs and picnic blankets, it lets you experience the GRAMMY winner's latest hits in a cool and casual scenery.  
On Sunday Oct. 22 the iconic Stevie Wonder brings his legendary performance to the Super Stage to cap off a thrilling weekend. Saturday and Sunday tickets are general admission, you get to pick where you would like to watch the show, and children have free admittance into all shows.
As for the actual Formula 1 racing, on Friday Williams Martini, Red Bull, and Mercedes AMG Petronas are racing. Later in the day from 6:30 p.m. to 6:50 p.m. the qualifying round takes place to determine the finalists for sponsored racers. After the qualifying round Scuderia Ferrari will be racing in a separate qualifying round.
There are different awards and races associated with drivers of specific race cars. Scuderia Ferrari has its own trophy, as do many other types of vehicles that race in their brand category, such as the Lotus which races under the Lotus cup.
On Saturday Mclaren Honda and Mika Hakkinen race followed by Justin Timberlake. On Sunday Scuderia Toro Rosso and Sahara Force India are racing followed by Stevie Wonder.
F1 also offers a wide selection of food. Such as hot dogs, pizza, and tacos. Because the Circuit of The Americas is so big there are hundreds of food trucks and catering tents to keep the eager observers full and energized for the jam packed weekend.