Minions: The Rise of Gru
"Minions: The Rise of Gru," directed by Kyle Balda, released in theaters on July 1. With a catchy soundtrack led by Jack Antinoff, "The Rise of Gru" was an enjoyable film.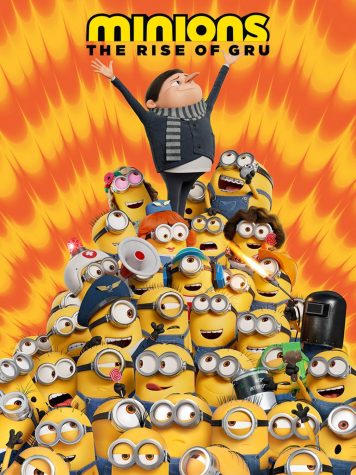 The movie is based on the well-loved character Gru and the yellow henchmen that evolved from single-celled organisms: Minions. Minions have been winning hearts since they were first seen in "Despicable Me" in 2010. "The Rise of Gru" gives a backstory to the "Despicable Me" film and takes place after the first Minions movie.
The plot of the film is average. A young Gru attempts to join the world-famous group of supervillains: The Vicious Six. Gru, with the help of the Minions, prepares for the interview, which goes horribly wrong and ends in him stealing a device from the Vicious Six. Then, Gru is kidnapped by an ex-member of the Six and goes through a journey, learning what it takes to be a villain. The Minions attempt to rescue Gru and have plenty of humorous moments on screen during their trip to Gru. The end is predictable: a resolution that brings together the new things each character learns. Still, it was an enjoyable experience and a fun watch for families.  
Overall, the movie was able to continue the Minions' tradition of making fun, brainless watches that lighten your day. "The Rise of Gru" is the type of movie someone of any age can watch and have a laugh at.