Opinion on the South Carolina Democratic Debate
I will start this piece off saying that the Democratic debate last night on CBS felt less like a formal discussion on the governing of our union and more like a shouting match between immature kids yelling at the top of their lungs. All of the candidates on stage screamed over one another and repeatedly ignored moderator attempts to regulate them.  
The debate was already entertaining when Massachusetts Sen. Elizabeth Warren began hurling accusations against former NYC mayor and businessmen Michael Bloomberg. The accusations were that Bloomberg had treated female employees of his company poorly.  Meanwhile Tom Steyer, a businessman who is the founder of Farallon Capital, came off as angry and immature, literally shouting "Trump Stinks!" like a toddler. The debate got even better when Vermont Sen. Bernie Sanders, a democratic socialist, came under fire from the other candidates for his ludicrously expensive welfare plans,which are estimated to cost around $30-60 trillion. Keep in mind the U.S. tax revenue for 2018 was around $3.33 trillion.  
Candidates made assumptions when it came to gun-related issues. One of the first issues that stuck out to me was the candidates were equating firearms manufacturing companies to megacorporations in that they control government policy. Remington, one of America's most prolific gun manufacturers, faced bankruptcy several years ago. Colt's Manufacturing Company, the historical producer of the prolific 1911 pistol and AR-15 rifle, obtained $33 million in its last round of funding in 2015. By comparison, Bloomberg spent more than $450 million on ads for his presidential campaign so far. What is also ironic is the attempt by the candidates to portray the National Rifle Association as some sort of undemocratic boogeyman influencing gun policy. They forgot to mention the NRA holds elections for its board of directors and is the most powerful voice for America's increasingly marginalized gun community.  
When it came to foreign policy, the candidates and the moderators had absolutely no idea what they were talking about. The moderators asked them how they would respond to the current situation in Northern Syria, dangerously portraying it as a one-sided war where the innocent people of Syria were being oppressed by a dictatorial man. The moderators failed to mention that many of the rebel fighters swear allegiance to Hayat Tharir al-Sham, a coalition of jihadist groups with one group, Al Nusra, having formerly been part of Al Qaeda. The candidates said they would stand with the people of Syria against their Russian-backed government, ignoring the fact that the forces opposing the offensive are jihadists. While the Syrian government has resorted to barbaric means to suppress it's population, the candidates and the moderators dangerously portrayed Syria as a one-sided conflict.
Most of the candidates came off as loose cannons. What was funny to hear was when everyone was arguing, trying to talk over one another, former Vice-President Joe Biden screamed that he was going to beat incumbent Senate Majority Leader Mitch McConnell. Former South Bend Mayor Pete Buttigieg and Minnesota Sen. Amy Klobochar came off as the only level-headed candidates in the debate, not resorting to screaming at one another as well as supporting obtainable goals. On the other end of the spectrum, Steyer came off as an angry crybaby, resorting to childish insults and raising his voice in an attempt to show his opinion. Bloomberg meanwhile was still on the defensive with Sanders now beginning to face pressure from all of the candidates. Out of all the candidates on stage, I would say that Buttigieg had the best performance. He did not resort to insults, talked in a level voice and supported moderate policies. While I am still fully committed to Trump's re-election, I also have gained respect for Buttigieg through this debate.
About the Writer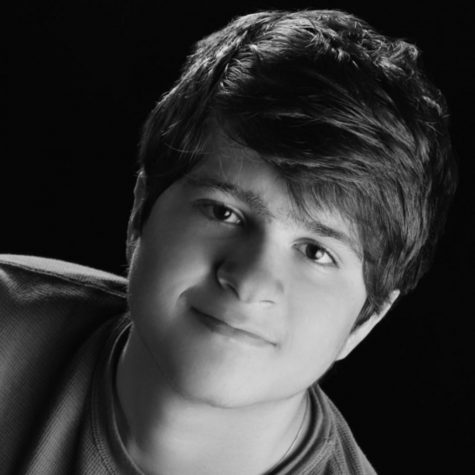 Nicholas Scoggins, Staff Reporter
Nicholas Scoggins is a junior and this is his second year on the newspaper staff. In his free time, he enjoys traveling, reading and participating in military reenactments. After high school, he hopes to pursue a military career.