Voice staff ends year with ILPC Bronze Star
The student online newspaper staff received a Bronze Star designation from the Interscholastic League Press Conference to recognize their overall contributions to high school coverage for the 2021-2022 school year, placing the publication in the top 10 in the state of Texas for 6A and the only Leander ISD school recognized. The team of 14 wrote several different types of articles to tell the stories of the students and staff at Vandegrift as well as the surrounding community. Many of these pieces won awards individually for the staff members. Additionally, a total of nine staff members were recognized by the National Scholastic Press Association's honor roll for their years on staff and GPA.
Previously, the staff was honored by the Texas Association of Journalism Educators as 'Best in Texas' and the NSPA for their efforts in the fall specifically. Spring NSPA awards will be announced over the summer.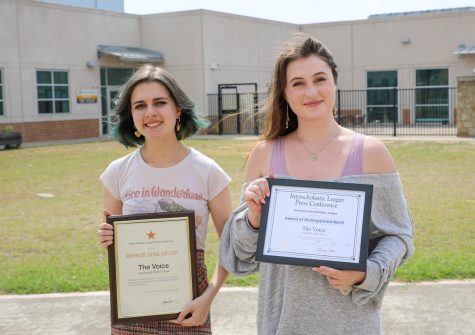 The staff was led by senior Kate Denning and junior Isabel Young as editors. Young will return in August as editor alongside new editors Yness Martinez and Abigail Lincks.