Marching on
Band moves March-A-Thon fundraiser online
Due to current COVID-19 circumstances, the band's annual March-A-Thon performance did not involve the usual parading through Steiner's streets or private lawn concerts for donors. Instead, it's gone virtual, compiling recordings of each band and vision member to create a single, cohesive video performance of their traditional stand tunes, which was posted to the March-A-Thon website Sep. 15.
To make the video, students received a recording track to play along with a metronome, which they could then listen to with earbuds, according to junior trumpet player Lara Battisti.
"It was really strange," Battisti said. "The sound quality turned out fine in the end with everybody playing together, but just making the video at first was really weird for me. At one point we had to sing the song 'Hey Baby', [and] it was weird just being in a room by myself like that. Although, the whole process of putting it together was really cool, seeing all the different screens flowing by, it was neat."
Normally, March-A-Thon would involve marching and playing through the streets all morning and into the afternoon, interspersed by concerts in a park at the beginning, middle and end of the event. This year, the performance didn't require nearly as much physical labor.
"Instead we just had to post a video to Google Drive," freshman Blake Fieleke said. "Granted, this video took a lot of work, but we still didn't even leave our homes for it."
In previous years, marching for several hours in the Texas heat required students to stay hydrated, a problem parents had come up with a very creative solution for.
"Through all this, we'll need to be drinking water and everything, so walking along the street there's parents that will have buckets of ice and water guns, they'd spray us and just put ice on us, we'd get it in our hands, eat it sometimes," Battisti said. "A lot of people have decided to put it down others' shirts."
Despite the level of hard work that goes into perfecting the regular March-A-Thon pieces, Battisti said that she still found it to be an enjoyable experience.
"It's a really neat time, because in your sections, you're able to stand by people who you want to stand by, and it's neat, because then walking along, you're able to chat with friends, see all the parents walking by giving out ice, whenever [you're] turning you're able to see the rest of the band up ahead, and it's mainly just a day of a lot of playing and walking," Battisti said. "But it's been a lot of fun the past two times I've done it."
Along with the virtual March-A-Thon performance, the March-A-Thon's website allows people to donate to the fundraiser. The time limit to reach the band's fundraising goal ended this past Sunday, but donations can still be made to the fundraiser throughout the year to support the band's endeavors for the 2020-2021 school year.
"The website that the band uses for the fundraising sends out the emails by itself, so the whole process is completely automated," Fieleke said. "The recipients of the emails can choose how much they want to donate, and then they're done. As far as fundraisers go it's very simple and effective. The band has already raised more than $75,000!"
Though the virtual March-A-Thon has proved to be a successful fundraiser and performance, Battisti still missed being able to do the real thing.
"It's been a lot of fun, the past two times I've done it," Battisti said. "It's just been a lot of fun, because after March-A-Thon, [we'd be] at a park, and [they'd] give us bags of frozen grapes. We love [those] things. Then we're at this park, so I always get on swings with my friends, and then others have their instruments there, and it's just a whole entire band at a park, doing random things, eating frozen grapes, and it's a lot of fun. So I miss it this year."
About the Writer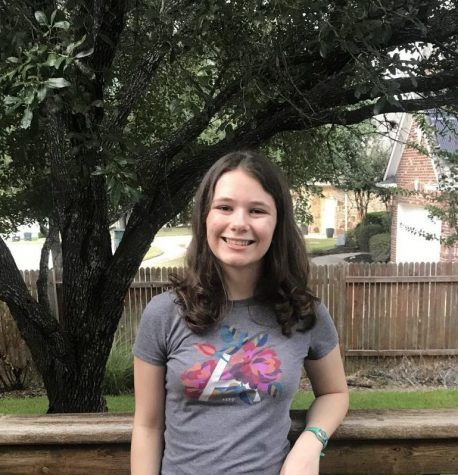 Brianne Chase, Staff Reporter
Brianne Chase is a junior at Vandegrift and this is her first year in newspaper. She has been in choir for six years and is a part of the women's varsity choir. After she graduates, Brianne plans to study microbiology at BYU, although she hopes to also continue writing in her free time.