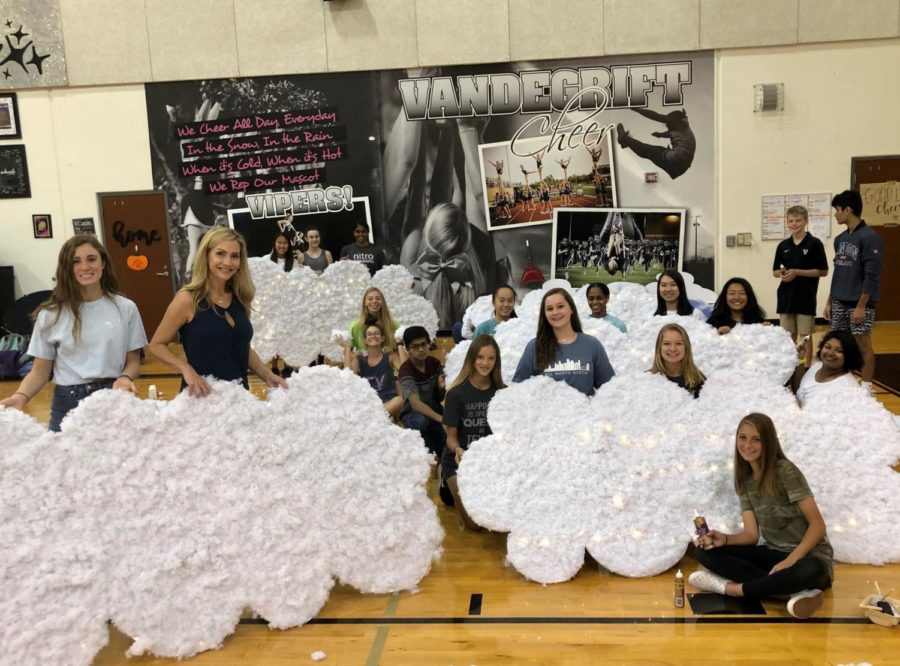 Submitted by Jill Wingrove
The Legacies, with contributions from several other VHS organizations, will host the first homecoming dance in 10 years Saturday night.
Students can purchase tickets early on the VHS website for $15, or purchase tickets with cash only at the door for $20. 
"I know my kids and their friends were begging for a homecoming dance, and that was what inspired me to make it happen," chair of the event Jill Wingrove said. "I remember homecoming being so fun when I was in high school, and it's one of my favorite memories."
The dance will be held in the cafeteria, and will feature a light show, dessert bar and a DJ. The dessert bar will include cupcakes, donuts, cotton candy and Tiff's Treats. Students on the dance committee picked the activities and the theme, Cloud 9.
"We had a group of representatives from various organizations vote to pick the theme," Kate Kemmerer, Legacies social captain and senior, said. 
The dance will start at 7:30 p.m., and a pair of Airpods will be given away as a door prize at 8:15 p.m., students must be present to win. Wingrove encouraged students to come early to have a chance at winning them and other prizes. 
Wingrove believes the DJ, DJ Infinity Sound Lab, will be one of the most exciting parts of the dance. Students can request songs for the DJ to play through a link on the VHS website. 
"It is going to be far more spectacular than your average school dance, mainly because of the DJ," Wingrove said. "He is bringing a really impressive lighting package, and doing a lighting show. He is the best of the best."
PALS, band and vision, cheer, football and student council have all aided with the dance by promoting the event on their social media, as well as helping with set up and tear down. 
"I think people might be weary of coming because it's the first year," Arianna Grandi, student council president and senior, said. "Promoting is easy, but getting people to come is the struggle so far."
In addition to promoting the dance, student organizations have helped create decorations for the cafeteria. The committee has held four work days so far to build the decorations.
"We are going to completely transform the cafeteria," Wingrove said. "My garage is filled with decorations."
One of these decorations is a set of four photo backdrops that students can take pictures in front with their dates and friends. Chaperones will be available to take photos for students.
"We decided against having a formal photographer," Wingrove said. "We know teenagers have smartphones and they take a lot of pictures and selfies."
Grandi is excited for the chance to go to a dance that is not as formal as prom.
"Prom was stressful," Grandi said. "I'm excited to hang out in a semi-formal setting, and I'm glad homecoming will be a lot closer than prom."
Wingrove and the Legacies are hoping for a large turnout and a successful event. 
"I'm most excited to see all of our work come together and hang out with my friends," Kemmerer said. "It's always fun to start a new tradition. It will be a memorable experience."
Read about the Homecoming game here.
Read about the Homecoming parade here.