PLTW speaker series gives students unique opportunity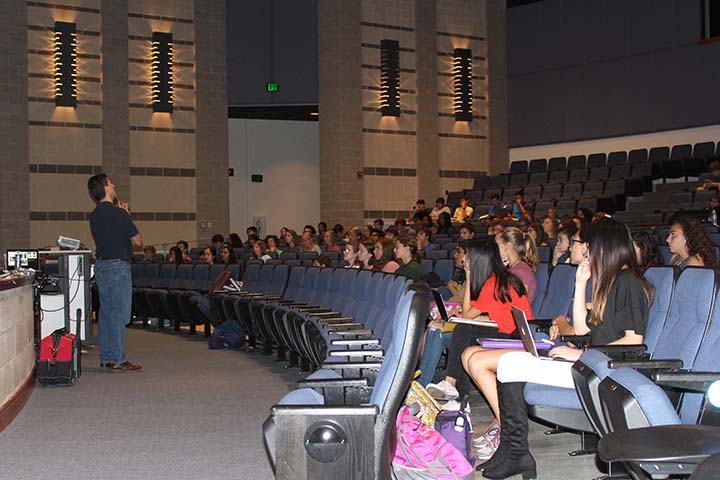 Allie Smith, Contributing Writer
November 8, 2018
In order for students to become more acquainted with possible careers along the medical path, Project Lead the Way has offered a speaker series for students to attend. The series contains a list of panels from distinguished medical professionals and even some unique experiences for students to engage in. The most recent panel included ER Physician Dr. Andrew Kitlowski, which took place on Oct. 30.
"I'm glad to be here," Kitlowski said. "Emergency medical physicians see a lot of crazy stuff, so it takes a lot to impress us."

Medical Interventions, IB Biology and chemistry teacher John Schocken explained that the goal of the panels is to allow students to gain knowledge and experience of a diverse range of medical professions.
"The PLTW Speaker Series was first organized as an attempt to get more community involvement with the PLTW program,"  Schocken said. "The speaker series allows students to hear about different biomedical-related careers that they may have an interest in or may have never heard of before."
According to freshman Izzy Talu, the series offers students an exclusive experience which entices students in more ways than one.
"I was enthralled during the panel because I found it very interesting to learn about various jobs in the medical field," Talu said. "It was also captivating to listen to Dr. Kitlowski's journey and how he obtain his job."
Kitlowski's panel shared the actuality of being in a medical profession- not everything always goes to plan.
"Not every case we see is a save," Kitlowski said. "The saddest case is always the case where the person comes in to me and I can talk to them." 
The speaker series can be a beneficial experience for many students taking advanced medical classes. The panels provide testimony from real people, giving students a sense of reality and plausible a goal to reach for. 
"I think that is very important for other students to attend because it is a very unique learning opportunity," Talu said. "We are learning from someone who actually has a job in the medical field."
If other students have a similar experience, it's safe to say the speaker series is doing exactly what it was intended to do- provide possibilities and exciting information for medical students.
"We want to bring in speakers that are engaging and have a passion to share with students," Schocken said. "The talks are a wonderful opportunity to get a glimpse of one potential future for them."