Chosen students direct one-act plays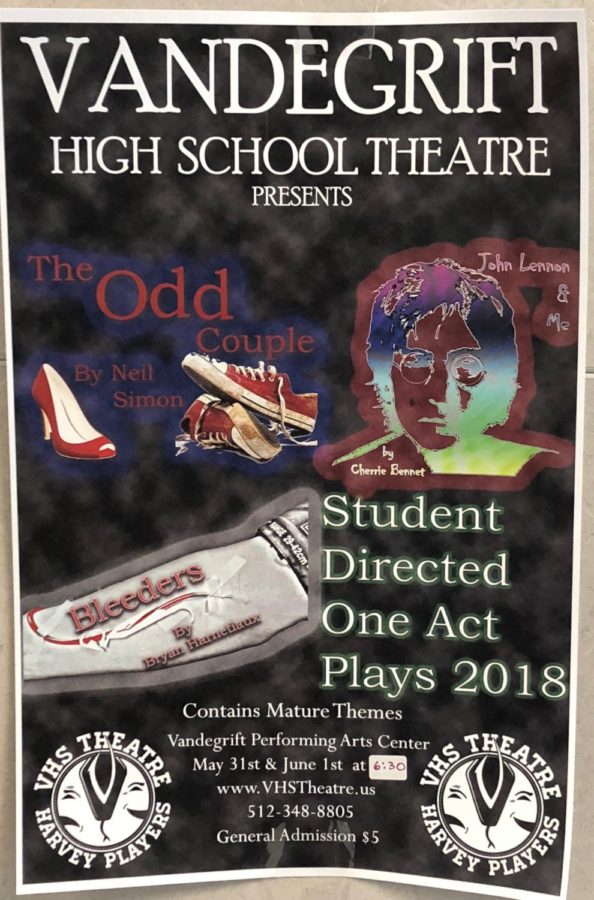 The student directed one-act plays will be performed tonight and tomorrow night at 6:30 p.m. in the black box in the Performing Arts Center. The one-act plays include "The Odd Couple" by Neil Simon and directed by senior Brittany Young, "Bleeders" by Bryan Harnetiaux and directed by senior Madison Woodrom and "John Lennon and Me" by Cherrie Bennet and directed by senior Macy Rex.
"I actually did 'The Odd Couple' for my senior director audition," Young said. "I knew Macy and Madison were going to do dramatic shows so I thought picking a comedy would differentiate us a little bit. I just really like the show because there are so many characters and so many different types of people and I just thought it was really funny."
Young, Woodroom and Rex held auditions for their one-act plays in April. Young said the hardest part about putting a cast together was there was so much talent but not enough spots. She said everybody who auditioned she could see in one of the roles in her show, but she could only pick eight people.
"It was a little nerve racking auditioning but it was nice because we were surrounded by friends and everyone was really encouraging," sophomore Samantha Kellogg said. "Everyone feels really close and no one is ever nervous or scared to approach their director. I love everyone in it, everyone is so amazing. I am really excited. I love this show and am excited to share it with everyone."
Along with Kellogg, sophomore Alex Fletcher said her favorite part about being in a senior directed one-act play is being able to see all the different directing styles of the seniors. She said she thinks everyone is going to do great and is excited.
"Honestly [my cast is] so talented and I don't even think they realize how really and truly they made this show exactly what I wanted it to be," Woodrom said. "They have worked so hard and I am so thankful for their hard work. I think it's absolutely beautiful and I'm really excited to perform it."
To be a senior director, the students had to audition by directing a 10 minute scene and present it to the theatre directors, Jon Alonso and Celeste Schneider. Along with this, the students submitted an application and took part in an interview conducted by Alonso and Schneider.
"We let the seniors direct and do what they need to do to," Alonso said. "The only time we step in is when there are some conflicts or some trouble with the play or with the actors or getting things together. When I step in, my job is to see what's working, help the director be more effective with their time, help the director make sure whatever idea is clear for the audience and clear for the actors and help the actors communicate with their director."
Once the senior directors are chosen, the students get to be in a lower level theatre class to be a director and helper. They get to lead lessons and give advice to the other theatre students in their class. Young said she has had fun being able to influence people in the younger theatre classes.
"To be a senior director is such an honor," Woodrom said. "I mean, I teach a class. Myself and and Macy are on the first period class and Miss Britney does the second period class. We do shows with them. We teach them how to properly perform monologues, theatre basics. We teach them what it really means to be a theatre kid — to be able to put on plays throughout the year and to be someone that these underclassmen look up to in this department."
CAST LISTS:
"Bleeders" – Directed by Madison Woodrom
Gar – Nicholas Brockelsby
Helen – Madison Williams
Vai – Gauri Bellur
Patrons – Zumanah Muhammad, Chloe Almendarez
"The Odd Couple" (Female Version) – Directed by Brittany Young
Olive Madison – Grace Hedges
Florence Ungar – Samantha Kellogg
Sylvie – Elle Hartman
Renee – Rusama Islam
Vera – Analise Pickerell
Mickey – Lily Whitehurst
Manolo Constazuela – Carlos Alvarez-Roth
Jesus Constazuela – Mick Smith
"John Lennon and Me" – Directed by Macy Rex
Star (Stella Grubner) – Claire Lawrence
Courtney Cambridge – Lily Zielinsky
Jeff Levine – Zander Harrison
Sally Kasem – Alex Fletcher
Julie Rowen / Nurse – Audrey Kimball
Tom Lowell – Christian Dooley
Dr. Scott Rhodes – Ethan Wade
About the Writer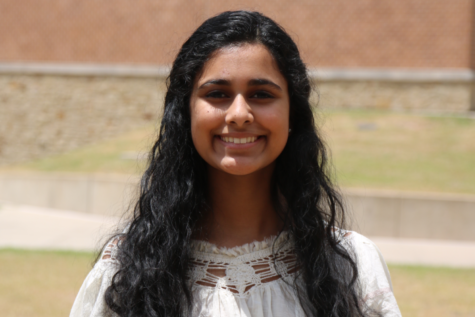 Harshita Avirneni, Spotlight Editor
Harshita Avirneni is a senior and this is her third year on the Vandegrift Voice staff. She joined newspaper because she wants to pursue a career in journalism. Harshita is also involved in UIL journalism, robotics and FCCLA.