Choir begins rehearsals for spring show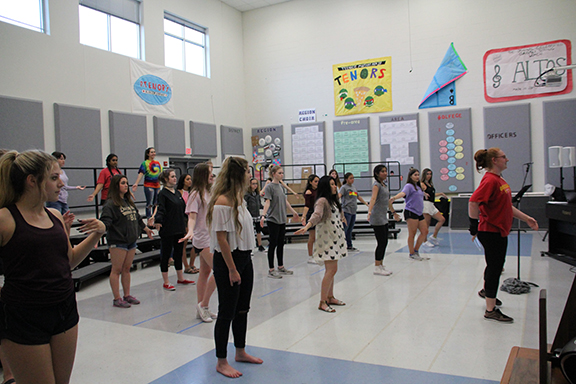 Bright lights shine from above the stage, shining on all the students' faces. Everyone gets into their starting poses. Then the music begins to play.
Rehearsals began for choir's spring show on Monday. This year the show is about dreams and aspirations. The show will feature solo and full choir acts, with mostly pop songs. The show will be in the PAC on May 18-19.
"I am a little nervous," junior and Non-Varsity Men member Ethan Wade said. "Mr. Feris is making us do things we've never done before, like making us do a cartwheel all at once on stage, which is a little nerve-wracking."
Choir follows a rigorous schedule leading up to the show. Students have to attend daily rehearsals after school to prepare for their numbers.
"On Monday Chorale stayed until 6, sophomore and A Capella member Jocilyn Hert said. "A Capella and Concert stayed until 6, and tomorrow we stay until 5."
Students are looking forward to branching out from their usual songs the night of the show.
"It's a lot more fun, I guess you could say," Hert said. "There's a lot more upbeat songs. You just have to get into it and have fun."
Freshman and Concert Women member Victoria Chavez is excited for her first spring show in high school.
"I'm looking forward to singing 'I Will Survive,'" Chavez said. "It's amazing. I'm also very excited for the soloists."
Other choirs will have their own numbers featured in the show.
"I'm really looking forward to seeing the other choirs," Chavez said. "One of the other choirs is singing 'Ain't no Mountain High Enough.'"
It's a team effort to put on the spring show.
"My favorite part is hanging out with my friends backstage and putting together the solos," junior and Chamber member Brooke Sanders said. "By the time the show starts we're all hyped up and we help each other get ready backstage. It's a ton of fun because the show is what it is so we are all just enjoying each other's company."
About the Writer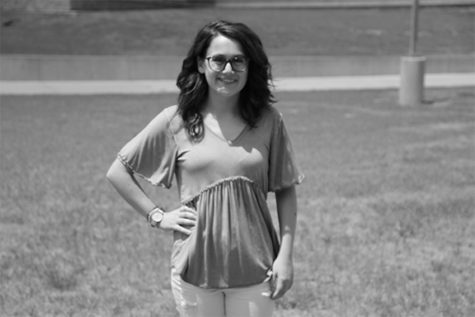 Jennifer Walker, Editor-in-Chief
Jennifer Walker is a senior and this is her third year on the newspaper staff. Jennifer took Journalism during her freshman year and fell in love with the journalism department. When she is not in newspaper, Jennifer can be found in the broadcast studio or working on a piece for AP 2D Design. She will study Communication Design in the Honors College at the University of North Texas next year.