National Merit Scholar Semi-Finalists announced
Hang on for a minute...we're trying to find some more stories you might like.
Twenty-four students were recently named as the 2016 National Merit Semi-Finalists based on their PSAT scores. Finalists include seniors Philip Ahern, Zach Burky, Tristan Cho, Marisa Collmann, Jeremy Cummings, Brendan Hollaway, Maile Hooten, Alex Jiang, Austin Jiang, Alec LaPlace, Shivani Pandya, Malavika Perinchery, Avni Shah and Emily Tallman. Each student will complete several requirements before reaching the finalist level that is awarded in the spring.
"I was pretty excited and proud when I found out I was a semifinalist, and I'm really happy for all of my fellow semifinalists," senior Avni Shah said.
All nominated seniors scored a 220 or higher on their PSAT in 2015. Students that continue in the competition have the opportunity to apply for over 7,000 different scholarships can potentially win $32 million in scholarship funds, including a possible free ride to college.
"It's a pretty wonderful opportunity for students," Dean of Instruction Christa Thompson-Martin said. "This shows how the school holds classroom learning in high regard."
National Hispanic Scholars have also been announced. The College Board's National Hispanic Recognition Program (NHRP), a program that recognizes academically outstanding Hispanic/Latino high school students, chose 10 students from each school to be eligible for their scholarships. The NHRP honors 5,000 of the highest-scoring nationwide students who have taken the PSAT or NMSQT annually. Seniors Ariana Engles, Megan Mowad, Matthew Rodriguez, Mariana Caldas, Jack Elliot, Antonio Cordova, Marisa Collmann, Brendan Hollaway, Gavin Gurrola and Brandy Vera are some of those students.
"I feel honored and accomplished that my hard work has paid off," senior Megan Mowad said. "The benefits are immense and have qualified me for numerous scholarships."

About the Writer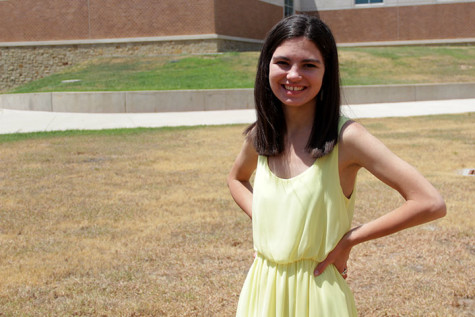 Emma-Rose Floyd, News Editor
Emma-Rose is a senior at Vandegrift. She has been a part of newspaper since her sophomore year. Positions she has held include Social Media Manager, and News Editor, a position she has had for two years. Emma-Rose  is also an active member of Key Club, dances in her free time and is a member of the UIL journalism team. She hopes to major in communications in college and become a full-time journalist.