Theatre to prepare for the year ahead
Hang on for a minute...we're trying to find some more stories you might like.
As students start to get comfortable in their classes, theatre students are also getting comfortable on stage. This year, the theatre department held auditions early, on Aug. 20. The department has started rehearsing for the first of the their two fall plays.
"We wanted the students to have time to prepare," director Jon Alonso said. "We had them prepare two contrasting monologues to see which characters they were best fit for."
Come Blow Your Horn, set to open Oct. 15, will be the first play of the year. As the department is taking on six different shows this year, a first, Alonso held auditions earlier than usual because they wanted to get a head start on their projects. The production's set is being prepared by technical director Neal Gage with help from the technical theatre classes.
"[The technical crew's] goal is to make things look as real as possible on a budget," Gage said. "It's a thankless job done completely in the dark, and we love it."
The play is double casted, meaning that there will be two actors for each character, with 12 total cast members. The leads for Alan Baker will be played by junior Brad Borman and senior Brian Nguyen. The leads for Connie Baker will be played by senior Jacqueline Kotlarz and junior Paige Lizak. Rehearsals started this past Monday, and will continue Mondays through Thursdays 4-6 after school until opening night.
"I'm delighted to be a part of the show and work with the great cast," senior Brian Nguyen said. "It will be my first time really working with Mr. Alonso, which I am thrilled about because he is hysterical. It's a super funny show and I hope we can enlighten the audience with some laughter."
The comedy takes place in the 1960s in New York City. Two brothers, Alan and Buddy Baker, are heirs to a wax fruit company and are evading their overbearing parents in their own ways. When Buddy finally runs away from home, Alan is dragged back to the drama and forced to deal with his familial issues throughout the production. He is pursued by Connie, a ex-musical artist who quit her career for love, throughout the play and he is forced to choose between his bachelor life and marriage.
"It's a really funny, quirky play," senior cast member Laine Leitao said. "Rehearsals are tons of fun, and the script is hilarious, I think it's one of the funniest plays the school has ever done."

About the Writer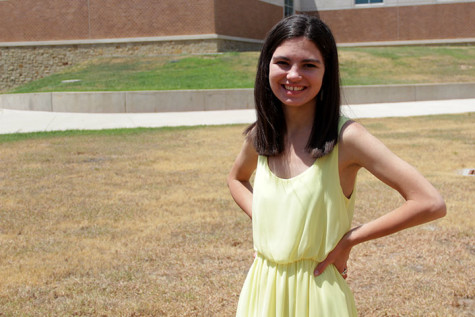 Emma-Rose Floyd, News Editor
Emma-Rose is a senior at Vandegrift. She has been a part of newspaper since her sophomore year. Positions she has held include Social Media Manager, and News Editor, a position she has had for two years. Emma-Rose  is also an active member of Key Club, dances in her free time and is a member of the UIL journalism team. She hopes to major in communications in college and become a full-time journalist.