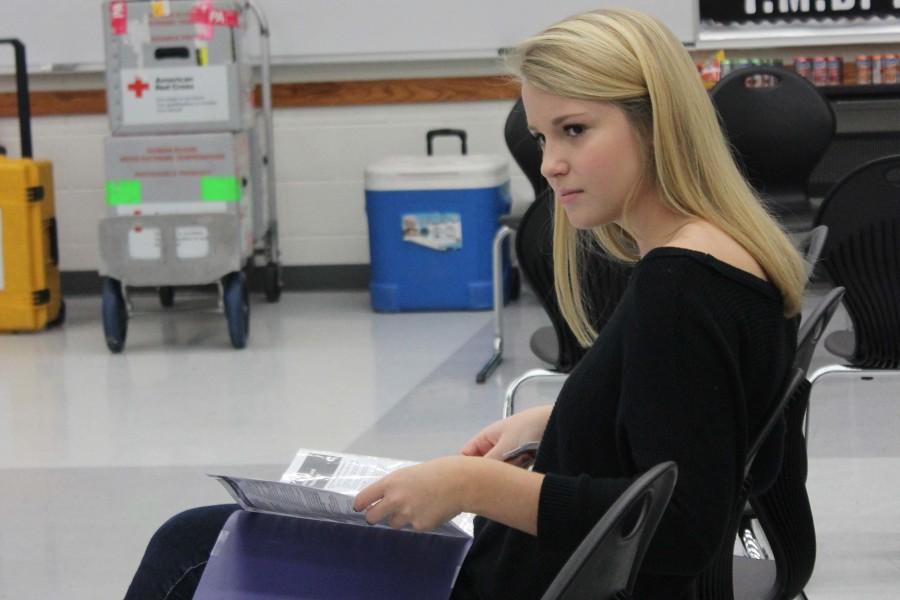 For the second year now the Red Cross Club, sponsored by Dr. Ellen Conner, hosted a Red Blood Drive where students helped those in need by giving a pint of their blood to the Red Cross organization. The event took place in the athletic meeting room throughout the day.
"I am always impressed by how many students donate and volunteer to make our blood drive so successful," Conner said
To donate blood, students had to be at least 17, in good health, have proper identification, and meet the eligibility requirements given to the school by the organization. 16 year olds could donate, but needed a parent's consent.
"It was such a great experience to donate and give back," senior Naomi Rapeir said. "I think it's a really amazing thing that people can do at any time to help those in need."
When giving their blood, students made sure to eat and drink plenty of fluids beforehand to help decrease the chances of fainting. Senior Morgan Waters has given blood both her junior and senior year and has fainted each time by not eating or drinking enough prior to the event.
"Even though I fainted both times, I would still continue to donate," Waters said.
Last year, Vandegrift collected more blood donations than any other academic institution in central Texas including UT at Austin and A&M and were also able to collect enough donations to award a small Red Cross sponsored academic scholarship to a student.
"I am so glad that I got to donate blood this year," senior Lauren Munoz said. "It's such a great feeling to know that I helped someone in so many different ways."