VHS French Students Excel in Competition
Hang on for a minute...we're trying to find some more stories you might like.
In March, VHS French students showed off their skills while competing in the National French Contest or "Le Grand Concours," here on campus. The students who competed were required to take a test after school that covered reading, grammar, and listening comprehension.
 "Participating in this competition allowed me to better develop my French and see how I compare to others at a similar level of learning," French III  student Ruchika Mitbander said.
Out of the 42 VHS students who competed, 22 placed in the top 30 percent nationwide, with eight students in the top 20 percent and one in the top 10 percent.
"I am very proud of my achievement and feel so honored to have placed in the top 30 percent" French III student Nicoll Gutierrez said. "I'm so happy I got the opportunity to take it"
Below is a list of the Vandegrift students who placed in the competition:
Students who placed in top 30 percent nation-wide:
Alex Iacobucci
Austin Rhea
Zach Burky
Erik Legg
Johnny Morreale
Arabella Olson
Sahar Rashed
Sarah Robertson
Dana Brannon
Nicoll Gutierrez
Students who placed in top 20 percent nationwide:
Yamile Morales-Burnett
Alison Chapman
Alessandro Houshmand
Taara Clarke
Daniel Cramer
Ruchika Mitbander
Jorge Morales-Burnett
Student who placed in top 10 percent nationwide:
 "I feel justified that I have done my job in the classroom," said French teacher Mrs. Simon "and being so passionate about the language, it makes me happy that others feel the same."

About the Writer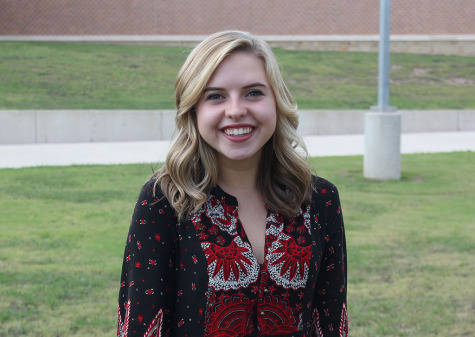 Kelly Honts, Web Editor
Kelly Honts has been a part of the newspaper staff since her sophomore year in 2012. She is the Vice President of Vandegrift's choir program and very involved with both Student Council and NHS. In her free time Kelly has her very own lifestyle blog called The Pretty Peony where she posts about both food and fashion. Kelly hopes to attend the University of Santa Clara and major in marketing so she can eventually go into fashion merchandise. In Kelly's free time she enjoys hanging out with friends, spending time outside, and reading!