Club Spotlight: Cheer
An interview with cheer head coach Tammy Jones about the cheer program and what the girls are doing to prepare for next year.
 How long has cheer been at Vandegrift?
VHS has had a cheer program since its school's origination. 2009-2010.
What is your favorite part about cheer?
I enjoy being a part of an organization that promotes school spirit, hard work and dedication to our school's athletic organizations and at the same time being talented and competitive in our own program.
What you do in cheer and what are some of your daily tasks for the club?
We do everything from athletic training, stunting, tumbling, dancing and cheering to sign making and treat packing.
What kind of person is cheer looking for and what should potential members expect to learn?
We need talented girls who also have a passion for their school and will hold themselves accountable to the "second to none" attitude at all times.
How often does cheer meet? 
All cheer is on B days and competitive cheer meets on A days. However, girls put in countless hours in August, after school, and on weekends.
What is the environment like in cheer, how do people interact/treat each other?
We have to work as a team. You have to maintain trust within your squads in order to safely do the very difficult stunts we do.
What's something that people may not know about cheer if they're not in it?
This group of girls is very athletic and talented. We do not always have the time to showcase our talents in a way the school can see but cheerleaders work hard and are very good at what they do!
About the Writer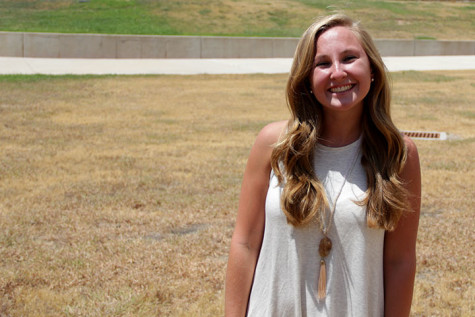 Kate Murphy, Newspaper President
Kate Murphy is a senior, she has been a writer of the Vandegrift Voice for three years. She is the current President for the Newspaper where she plans events and helps encourage her fellow students. Kate enjoys writing about sports and lifestyle articles, she enjoys writing about her fellow classmates and getting to know them. Go Vipers!